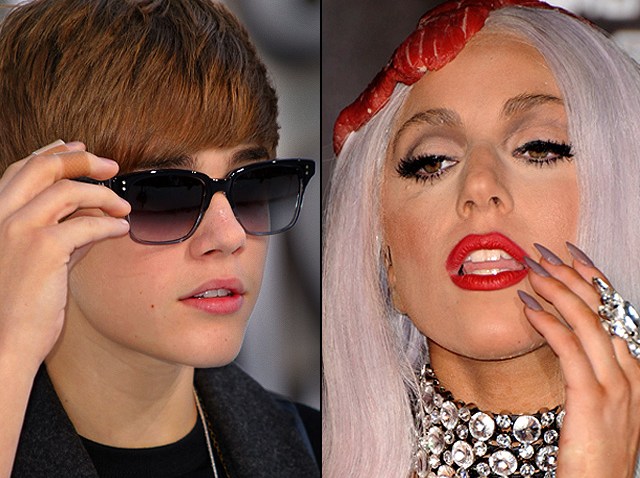 It's Lady Gaga vs. Justin Bieber in a battle to see who can clock 1 billion YouTube views first.
According to one number crunching site, Gaga will hit get to 10 digits first. Tube Mogul predicts that the elaborately costumed chanteuse will hit the magic number around Oct. 20, a good ten days before Bieber.
Another site, however, says it's already over -- and Gaga is the champ. That site, Visible Measures, counts all online videos, not just the ones on YouTube. Earlier this year, her Gaga-ness crushed President Obama in the race for 10 million Facebook fans
"Our analysis includes the original music videos, copies of those originals, and derivatives from over 200 video sites," Visibile Measures' Matt Fiorentino told Mashable.com.
In terms of the YouTube-only race, only Gaga and Bieber have any real chance of winning. Third-place Michael Jackson could posthumously surprise the field but he's idling around 600 million YouTube views.
Gaga topped that number with a single song -- "Bad Romance," which has nabbed 630 million YouTube viewings. And while she will likely shatter the 1 billion view mark before Bieber, the 16-year-old pop star can take solace in the fact that since February, he's been averaging more daily YouTube views than any other person on Earth. Or anywhere else. Bieber's daily average is 3.98 million compared to a measly 2.04 million for Gaga.
Selected Reading: Mashable.com, Tube Mogul, Newser.com.