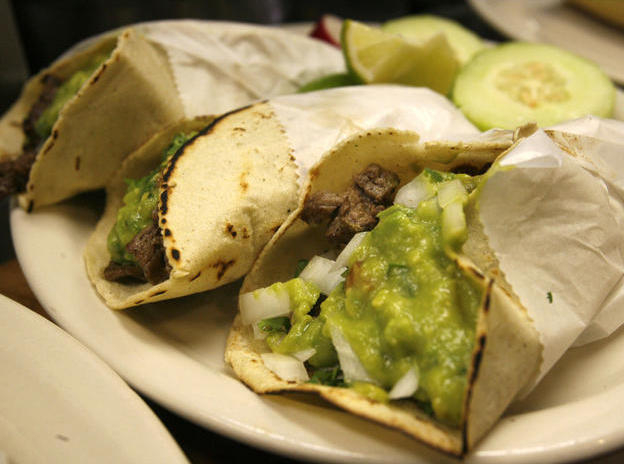 Turns out the Hop Devil Grill was only temporarily closed, owing to underage drinking at the bar. Owner and self-proclaimed "beer bro" Keith Reichenbach tells us he used the shuttering to make some changes, and after stopping by last night, we can say they're for the better. There are still 30 craft beers on tap (including cassis, barley wine, and soon, cask-conditioned ale), but the main room has been given a stripped-down southwestern makeover via license plates, bright colors, and a wagon wheel.
The menu, which can be found on the bar's site, has been tweaked by new chef Leon Salinas, a native of the region, to include fajitas (good call) and chorizo macaroni and cheese with truffle oil. Specials include $1 tacos on Tuesdays and $1 tostadas on Thursdays, when margaritas are $2 for the ladies. The Belgian Room is being phased out -- there's now a dare-we-say sexy back lounge that, truth be told, looks kinds of like Bua across the street, with handsome light fixtures made from beer jugs as well as modular seating. Frozen margs will soon replace the selection of Belgian beers, and 37-inch "frat-screen" TVs are also on the way. Backwards baseball caps spotted last night: one.
Earlier: Beer Bar's Closing Prompts Unexpectedly Mixed Emotions
Read more posts by Daniel Maurer
Filed Under: barley wine, beer bars, cassis, east village, hop devil grill, nightlife, Reopenings, southwestern, tex-mex
Previously on NYmag.com's Grub Street...

Copyright FOODD - NY Mag