Erica Byfield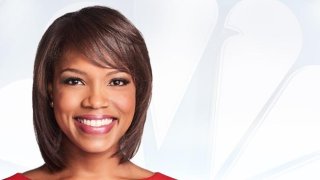 Erica Byfield is an Emmy® Award-winning reporter for NBC 4 New York, appearing weekdays in the evening newscasts.
Byfield's reporting was a key component of NBC 4 New York's award-winning COVID-19 coverage, honored in January, 2021 with the prestigious Alfred I. duPont-Columbia University Award for "creat(ing) a 360 view in real time of the coronavirus pandemic, with courageous and thorough reporting on the virus's explosion in New York City." The duPont has long been recognized as the broadcast, documentary and on-line equivalent of the Pulitzer Prize, also awarded by Columbia University.
Additionally, Byfield's reporting was an important contributor to a second prestigious station honor. Her work during the deadly December 2019 Jersey City shootout was recognized by the Radio Television Digital News Association (RTDNA), which awarded NBC 4 New York the 2020 National Edward R. Murrow Award for Top Television Newscast.
Byfield's commitment to journalistic excellence has been recognized with three regional Edward R. Murrow Awards for investigative reporting and team coverage of the 2017 Tribeca terrorist attack. This coverage was also recognized with two New York Emmys®. Byfield was awarded a New York Emmy® as part of NBC 4 New York's team coverage of the 2016 Chelsea bombing investigation. She was also named an IRE medal finalist.
Prior to joining NBC 4 New York in 2016, Byfield spent six years with WSB-TV in Atlanta where she served as an investigative reporter. She joined WSB-TV following service at CBS affiliate KMOV-TV, where she won a Mid America Emmy for her coverage of local crime. Byfield also spent two years as a general assignment reporter with KFVS-TV in Southwest Missouri.
Byfield is a 2005 graduate of University of Missouri-Columbia, where she received a Bachelor of Journalism degree. She also worked at KOMU as a reporter and fill-in anchor during her time at MIZZOU. Byfield later earned a master's degree in Communications and Leadership from Gonzaga University.
An active runner, Byfield completed her first New York City Marathon in 2017. She also loves to travel and speaks fluent Spanish.
Byfield is married and lives with her family in Manhattan.