Community Leaders Hold Rally Against Violence in Brooklyn
The event follows the execution-style killing of two men in Fort Greene Park Saturday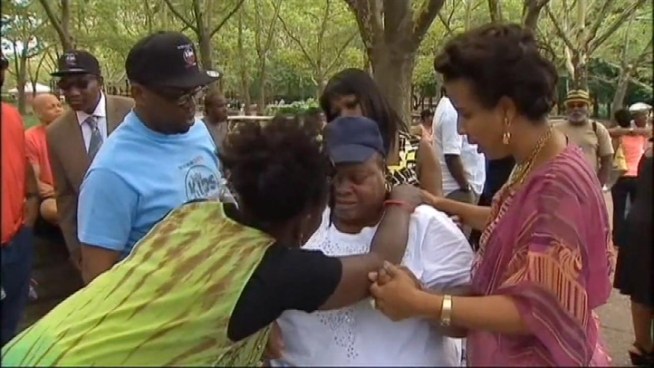 NBC 4 NEWS
Six people were shot in two Brooklyn neighborhoods over the weekend. For two victims, it was fatal. In the wake of it all, community leaders rallied Sunday to put an end to gun violence. News 4's Ida Siegal reports.
Community leaders in Brooklyn held a rally against violence Sunday following a weekend in which two men were killed execution style at what was supposed to be a peaceful neighborhood barbecue in Fort Greene Park.
Officials say they want the gunman behind bars.
"If you're responsible for this murder you will be caught," said City Councilwoman Letitia James. "This community has already put up $3,500."
James noted that police would be searching surveillance videos from the area to try and catch the killer.
"There are cameras all around Fort Greene Park and public housing," James said. "Your image is somewhere on that camera and we will find you."
The family of one of the victims broke down in tears as they pleaded for help in finding the gunman.
"Who ever did it please please give yourself in, because Javon was a nice kid," said Joanne Rawls, the mother of 22-year-old Javon Earl Anthony Govon, who died of a bullet to the head.
Jamal Isaac Paige, 21, was killed in the same manner; officials say they appear to have been involved in a beef with a rival crew.
Govon's family says he was a good guy who didn't deserve what happened to him.
"I'm gonna miss Javon," said Deloris Hesterbey, his aunt. "I can't walk so well he would push me in the wheelchair make sure I get upstairs to my apartment."