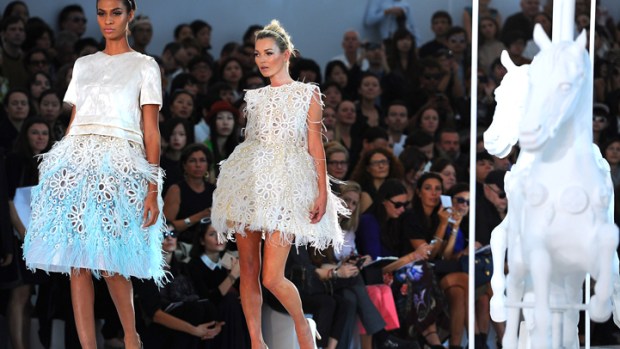 Getty Images
Kate Moss walked in the Spring 2012 Louis Vuitton show, held earlier this fall in Paris.
Less than two weeks after pieces from Marc Jacobs' Spring 2012 collection were reportedly stolen in London comes news of another spectacular fashion heist, this time involving another brand for which Jacobs designs: Louis Vuitton.
According to French news service AFP, thieves raided the cargo hold at Paris' Charles de Gaulle airport late Friday night in Paris and made off with 300,000 euros worth of Louis Vuitton merchandise (or about $400,760 by current exchange rates).
According to WWD's report, the masked robbers "neutralized" a security guard and four other workers at the airport's freight terminal, then snatched the goods.