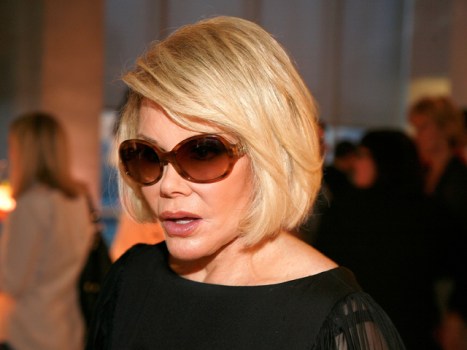 NEW YORK, NY - APRIL 27: Joan Rivers attends the LensCrafters' reveal of Sunglass Fashion Crimes with special guest Joan Rivers at RxHibition Event at the Glass Houses on April 27, 2011 in New York City. (Photo by Andy Kropa/Getty Images for LensCrafters) *** Local Caption *** Joan Rivers;
Last evening LensCrafters hosted an 'RxHibition' highlighting the dos and don'ts of wearing prescription sunglasses with the one and only Joan Rivers playing host to the evening, and offering sunglass style tips. Rivers, who has an opinion about just about every celebrity and their personal style, from Jennifer Aniston who she is "so bored of" to Sarah Jessica Parker who Rivers says has fashion "balls." One of Rivers' favorites to critique is Helena Bonham Carter who according to her, "Looks like they left the door unlocked at the asylum."
So we were especially excited to hear what the czar of E!'s Fashion Police had to say about budding style icon Kate Middleton and her take on the royal wedding dress drama.
Rivers says of Middleton, "She's got the body, she's very thin, she's got a great style to her. The hats are terrible-- half of them I swear look like IUDs [Intrauterine Devices]. But she definitely knows what she's doing. She always looks gorgeous."
Rivers, who is friends of Prince Charles and Camilla Parker Bowles and even attended their wedding in 2005 joked to us, "I'm planning on just showing up [to the wedding]. I wasn't asked but I think if you carry a big enough hat and a nice gift they'll let you in."
And while Rivers is waiting with baited breath like the rest of the world to see who the chosen dress designer is and what the dress will look like she isn't buying into the hype that this has been such a hard process for Middleton. "I'm so tired of hearing how hard it's been on Kate," says Rivers. "She's got the clothes, she's got the servants, everybody's at her beck and call. Yeah it's real tough. She's beautiful, what could be so terrible?"
Don't expect Rivers to hold back when she finally gets to dissect Middleton's chosen wedding dress on E!'s Royal Wedding Fashion Police special, airing tomorrow night. Rivers says, "I am one of the few people that is going to be willing to tell the truth about it."