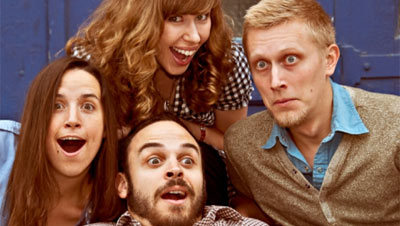 Lake Street Dive
Lake Street Dive
does it all wrong right out of the gate: The four members of this band actually seem to be having fun. Everybody knows that if you're an indie outfit, especially one based in Brooklyn, you're supposed to be all pouty and moody and staring-off-in-the-distance in your photos and stage countenance. (Just look at the photo. People are
smiling
, for God's sake.)
In the way of most things magical and exhilarating, Lake Street Dive's journey started out someplace completely different: drummer Mike Calabrese, bassist Bridget Kearney, vocalist Rachael Price, and trumpet-wielding guitarist Mike "McDuck" Olson originally came together to play avant-garde country music—in their own words, something along the lines of "Loretta Lynn meets Ornette Coleman"—but that idea quickly flew out the window. What happened instead was that the foursome, who met at Boston's New England Conservatory, had crazy chemistry and wound up making music that is the direct, organic translation of this animal attraction in song.
LSD (coincidence? Hmm) released their third, self-titled album in late 2010 on Signature Sounds records. It reminds us of the Bad Plus but catchier, and with raucous vocals. And then there's that infectious chemistry. PopMatters called it "a staggering, monumental disc," and while that sounds extra-superlativey, we kind of have to agree. It's one of the best things to come across our desk of late. Listen to some samples here (we like "Hello? Goodbye!" and "Henriette"), check out their video below, and then go see the band on Monday at Rockwood Music Hall. (They're also at Bowery Ballroom on Saturday night opening for Punch Brothers; that show is sold out.)
Lake Street Dive, Monday April 18, 10PM at Rockwood Music Hall, 196 Allen Street, 212-477-4155. Free.