Another storm will pass through the tri-state area Friday, aptly welcoming the new year with some freezing rain — before some areas of the tri-state see snow later in the weekend.
The showers from earlier in the day have moved out, and conditions should stay dry to ring in 2021. Real threats of heavy rain and icy weather come on New Year's Day.
Most of the day stays dry, but an icy mix and rain could impact travel around or shortly after sunset, especially north and west of New York City where some ice accumulations are possible.
While the city will see almost entirely rain, a winter weather advisory is in effect for the Hudson Valley and northern Fairfield County into Saturday morning (mostly for freezing rain, but some snow could mix in).
Most of the wintry precipitation will change to rain overnight, with temperatures expected to steadily rise into the 50s on Saturday. Most areas will start to dry up by mid-morning, although freezing rain further north could lead to power outages and slick surfaces.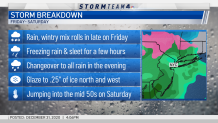 Yet another storm is expected to roll in on Sunday as temperatures drop back down into the low-to-mid 40s, where they're expected to stay through next week. Sunday's storm will once again drop primarily rain on the city, but areas north and west could see a couple inches of snow.
Copyright NBC New York