A line of strong storms triggered severe thunderstorm warnings and even a tornado warning for parts of the tri-state Monday evening, as powerful winds, heavy rains and hail threatened the area.
The worst weather is expected to be in the region through 11 p.m. The storms are expected to weaken as they approach New York City. Areas north and west of the five boroughs have the greatest likelihood of damaging storms.
A tornado warning was issued for Rockland and Westchester counties in New York, and Bergen County in New Jersey, until 10:30 p.m., but was canceled about 20 mins before that time.
A severe thunderstorm warning is in effect for new York's Ulster and Dutchess counties until 10:45 p.m. A severe thunderstorm watch is in effect for nearly all of New Jersey until midnight, as as well as Dutchess, Sullivan and Ulster counties in New York until 11 p.m.
Potential Hazards From Monday Tri-State Storms
Tornado Risk for Tri-State
Damaging Hail Risk for Tri-State
Destructive Wind Risk for Tri-State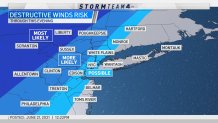 Winds from the storms knocked down trees and wires in parts of Sussex County in New Jersey.
The severe weather threat follows what has been a sweltering and suffocatingly humid Monday across the tri-state area, with heat index values soaring well into the mid and upper 90s by the afternoon. Actual temps should top off around 87 degrees in Central Park, which had hit a sweaty 82 by noon.
Heat advisories have been issued for parts of the tri-state through Monday night. Check the latest severe weather alerts for your neighborhood here.
There is some relief on the way in the form of an approaching cold front that will drop high temperatures by more than 10 degrees come Tuesday, which could see a few more scattered showers as well.
The mercury will fall back into the mid-70s, though, as the air becomes much more comfortable. Bright and beautiful weather returns midweek with sunny skies and temps in the high 70s forecast for both Wednesday and Thursday.
Track the approaching storms using our interactive radar below.
Copyright NBC New York