Pita Taufatofua made a splash in Rio in 2016 when he entered the Olympics Opening Ceremony shirtless and covered in oil.
Well, he's back in Tokyo.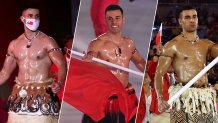 The Tongan taekwondo practitioner, skier and canoeist marched once again in this year's Opening Ceremony on Friday as his island nation's flag-bearer, causing an Internet splash.
Before the ceremony, he'd dropped hints that he'd be back and in rare form, and as he walked through the Olympic Stadium there were literally hundreds of tweets a second about his appearance.
Taufatofua, 37, is due to compete Tuesday in the men's 80kg round of 16.
An engineer by academic training who lists martial arts legend Bruce Lee as one of his heroes, the 6'3", 220-pound Taufatofua lives in Australia and also serves as an ambassador for UNICEF.
Copyright NBC New York