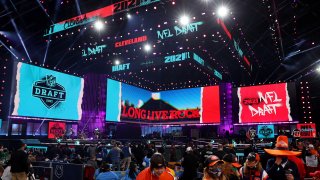 Dave Gettleman has become Trader Dave in this year's NFL draft.
The 70-year-old New York Giants general manager highlighted the second day of the draft by making two more deals Friday night. He traded down in the second round to take Georgia edge rusher Azeez Ojulari and traded up in the third to grab Central Florida cornerback Aaron Robinson.
Gettleman started off the draft on Thursday by shipping the No. 11 pick to Chicago and using the Bears' first-rounder at No. 20 to take Florida receiver Kadarius Toney.
The Bears selected Ohio State quarterback Justin Fields at No. 11, while the Giants (6-10) got the 20th pick, a fifth-round pick this year, and first- and fourth-round selections next year.
"Listen, it's all about if the opportunity is right," Gettleman said Friday. "It's about your board. It's about value meaning needs. It's all those things. Like I told you guys last week, I've tried in the past and it just hasn't worked. We felt we got just really good value here. "
The Giants were supposed to pick 42nd in the second round but moved down in a deal with Miami for the Dolphins' pick and an extra third-round pick in 2022. They took Ojulari at No. 50.
The son of Nigerian immigrants, Ojulari had 8 1/2 sacks, four forced fumbles and a fumble recovery. He had 14 sacks over the past two seasons. There were some concerns about Ojulari because of a knee problem, and it might have caused him to slip in the draft. He said the knee is fine and he will be looking to show he is one of the best pass rushers in the draft.
"I'm definitely relentless," Ojulari said. "Effort is never a question. I'm an all-around player, rush the passer, stop the run, drop in coverage. Whatever I have to do to help the team, I can do it."
Ojulari should feel at home with the Giants. His roommate in college was current tackle Andrew Thomas, New York's first-round pick in 2020. Former Bulldog defensive teammates Lorenzo Carter and Tae Crowder also are on the team.
In the deal with Miami on Friday, the Dolphins took Notre Dame tackle Liam Eichenberg at No. 42. Miami gave the Giants the 50th pick and a third-round choice in 2022. The Giants were supposed to pick 76th in the third round and made a deal with Denver to move up to No. 71 when they thought they might lose Robinson.
Robinson started his career at Alabama and transferred to Central Florida after his freshman season. He is fast and can play either in the slot on on the outside. This past season he started nine games and had 41 tackles with one forced fumble and one recovery. He led the team with seven pass breakups.
"The best defenses have the best tackling secondaries, and Aaron Robinson is a really good tackling corner," Gettleman said.
The Giants sent their third-round pick at No. 76 and the fifth-round pick this year to the Broncos. The fifth round was the one New York acquired from Chicago on Thursday in the first trade.
The New York Jets meanwhile kept the theme of offense going Friday night in the second round of the draft, selecting speedy and versatile Mississippi wide receiver Elijah Moore at No. 34 overall.
"He's dynamic," coach Robert Saleh said. "When he gets the ball in his hands, he becomes something different."
After fielding a mostly putrid offense the past two seasons under then-coach Adam Gase, the Jets focused on improving that side of the ball in a big way with their first three picks.
New York selected BYU quarterback Zach Wilson at No. 2 overall Thursday night, giving the Jets the player they hope can be the face of the franchise for years to come. They then traded up from No. 23 to No. 14 to take USC guard Alijah Vera-Tucker, who'll team with second-year tackle Mekhi Becton to bolster the left side of the offensive line in front of Wilson.
General manager Joe Douglas and the Jets received several inquiries from teams looking to trade up into New York's spot at 34. But the Jets decided to stay put and add another young piece to their new-look offense.
"We really didn't think Elijah had any chance to make it to us where we were picking today," Douglas said. "While you do answer the call, this was an opportunity we couldn't pass up to take Elijah."
Moore said he's excited about the prospect of playing with Wilson every week.
"Oh, man … he's got a great arm," he said. "Get ready to catch a lot of touchdowns."
The explosive Moore had a breakout season in 2020, setting a school record with 86 catches for 1,193 yards and being selected an All-American — despite opting out of the final two games. The 5-foot-9 1/2, 178-pound Moore is considered an outstanding route runner with terrific hands and toughness after the catch.
Because of his versatile skillset, he can be used in a variety of ways in offensive coordinator Mike LaFleur's scheme. That could be in the slot, on the outside or even out of the backfield.
"A great fit," Moore said of him playing in LaFleur's style of offense. "I feel like I'm a guy who adapts to anything, so whatever it is, I'm going to be able to adjust and get the job done."
Moore made some headlines during a game against Mississippi State in 2019 when he pretended to be a dog urinating in the end zone after a touchdown. The gesture drew a 15-yard unsportsmanlike conduct penalty — and Mississippi missed the extra point and eventually lost 21-20.
The wide receiver said several teams, including the Jets, asked him about it during their pre-draft video interviews with him. Moore insisted he learned "countless things" about the incident.
"You've got to best believe that moving forward, that being in that position again, I'm going to think about that," he said. "It was definitely a blessing in disguise. I probably got more out of it and I would never change it for the world if I had to do it all over again and I wouldn't if I would understand and be in the position I am now."
The decision to take Moore also puts veteran Jamison Crowder's future with the Jets in question. The reliable Crowder, who had 59 catches for 699 yards and six touchdowns last season, is scheduled to make $10 million this season but has no guaranteed money remaining on his contract.
"I wouldn't classify it by saying we drafted Elijah to be a replacement," Douglas said. "We drafted Elijah to be a playmaker."
The Jets also have Denzel Mims, their second-rounder last year, and Corey Davis, who was signed to a three-year, $37.5 million deal last month in free agency. Keelan Cole was also signed in free agency, and Braxton Berrios, Vyncint Smith and Jeff Smith are among those who remain in New York's receiving group.
Copyright AP - Associated Press