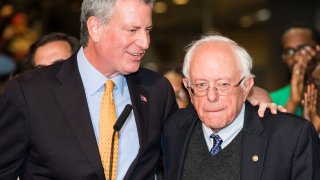 The man in charge of the Bronx — as well as the rest of the city — is Bernin'.
New York City Mayor Bill de Blasio announced on Friday he is endorsing Vermont Sen. Bernie Sanders in his run for president.
The mayor said it was Sanders' policies geared toward "working families" that garnered his support.
"New Yorkers know all too well the damage caused by Donald Trump's xenophobia, bigotry and recklessness, and Bernie is the candidate to take him on and take him down," de Blasio said. "I have called for a bold, progressive agenda, and that's exactly what Senator Sanders has championed for decades."
De Blasio will join the self-described democratic-socialist at a rally in Nevada over the weekend, ahead of the caucuses on February 22.
Sanders, fresh off a win in the New Hampshire primary and a virtual tie for first in the Iowa caucuses, has racked up endorsements from many of the Democratic party's most progressive members including Rep. Alexandria Ocasio-Cortez, Rep. Rashida Tlaib and Rep. Ilhan Omar.
"Jane and I grew up in Brooklyn and we are so proud to have the support of a New York City Mayor fighting every day to improve the lives of New Yorkers," Sanders said in a press release by the mayor's office. "Bill is a leading example of what bringing the Democratic Party together around so-called 'radical ideas' like universal pre-K, paid family and sick leave, and defending our immigrant neighbors can do for our country."
The move that puts de Blasio, an unabashed liberal elected in 2013, in a position to become a leading voice in opposition to his predecessor and Sanders' newest rival, Mike Bloomberg. It also comes months after the mayor's own 2020 presidential bid ended with a barely a whimper months before any votes were cast.
De Blasio has often portrayed himself as a change from the Bloomberg administration, which oversaw a city rebuild rebuilt itself after the Sept. 11, 2001, terror attacks to become the nation's safest biggest city and leading tourist destination. However, it also ushered in a sharp rise in income inequality and concern about police tactics like stop and frisk, which disproportionately affected communities of color.
It also marks a change from 2016, when de Blasio endorsed his former boss Hillary Clinton over Sanders, with whom his politics fall more in-line. He was the campaign manager for Hillary Clinton's 2000 Senate run in New York, and the former first couple presided over the mayor's inauguration in 2013
De Blasio is not the first New York official to support Sanders' cause either, as state senators Michael Gianaris, Julia Salazar, Luis Sepulveda and others have also pledged their support, along with New York City Public Advocate Jumaane Williams.