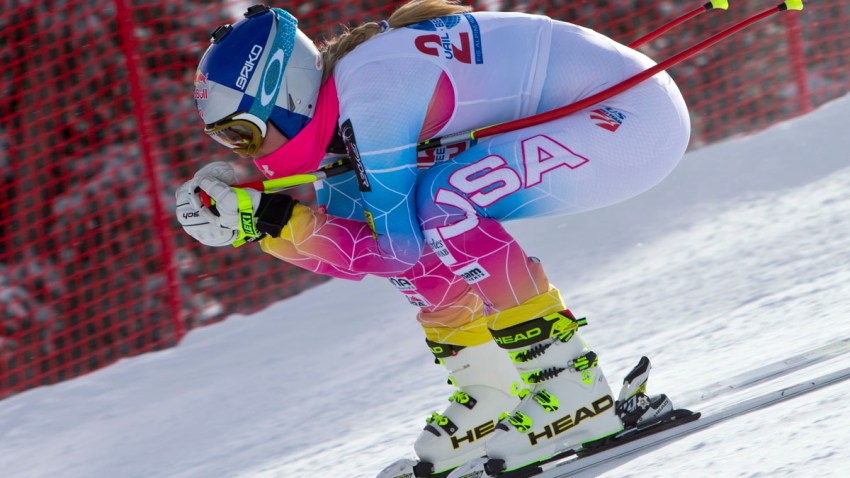 Reigning Olympic downhill champion Lindsey Vonn said Wednesday she is "feeling good" about her rehabilitation progress since suffering a knee injury during a training mishap last week.
She still hopes to compete in the Sochi Winter Games less than three months away and left the door open to a return to the slopes next week.
"The fall caused my knee to give out,'' Vonn told Matt Lauer on Wednesday's "Today" show. "If I hadn't had my brace on, I definitely would not have had anything left in my knee. It was one of those fluke-y things that sometimes happens. Unfortunately, it was really bad timing for me, but I'm still confident. I still feel like I have a lot left to achieve this season. I just have to kind of take it day by day right now, but I still have time before Sochi."
The 29-year-old fell during a training run at Copper Mountain in Colorado, partially tearing one of her reconstructed ligaments in her surgically-repaired right knee. She also bruised her right shoulder blade and sustained minor abrasions on her face.
"I was training downhill, (and) it was kind of a tricky course,'' said Vonn, who was supposed to make her return this week from a serious right knee injury she suffered in a crash last February. "There was a compression turn. It was breaking up because there was a lot of guys training on the course with me, and my ski just kind of tracked out. I caught my edge and flipped over my skis and went headfirst into the fence."
In the earlier accident at the Alpine skiing world championships in Schlamding, Austria, on Feb. 5, Vonn tore her anterior cruciate ligament and medial collateral ligament in her right knee and fractured her tibia.
The latest crash kept Vonn from competing at this week's World Cup races in Beaver Creek, Colo. But there's a chance she'll be at the starting gate at the World Cup event at Lake Louise in Alberta, Canada, on Dec. 6, she said.
Even though her knee feels stable during rehab "squat" exercises, the real test will come when she starts getting on snow, Vonn told Lauer.
"It's one thing to feel stable while you're doing squats, it's another thing to feel stable while you're actually racing at 90 miles an hour," Vonn explained. "There definitely is a long ways to go there, but I'm confident that it's going to be okay. At this point, that's all I can do — is stay positive. I'm kind of out of options at this point. I'm hoping that it's going to be stable and I'm hoping that I continue racing."
Vonn, the most accomplished female skier in U.S. history, is three wins shy of tying the women's record of 62 World Cup race victories set by Austria's Annemarie Moser-Proell.
"I'm working as hard as I can, so I'm just fingers crossed that I can be racing next week because I've worked so hard all summer to get back to this point," Vonn told Lauer. "I just want to get back in the starting gate."