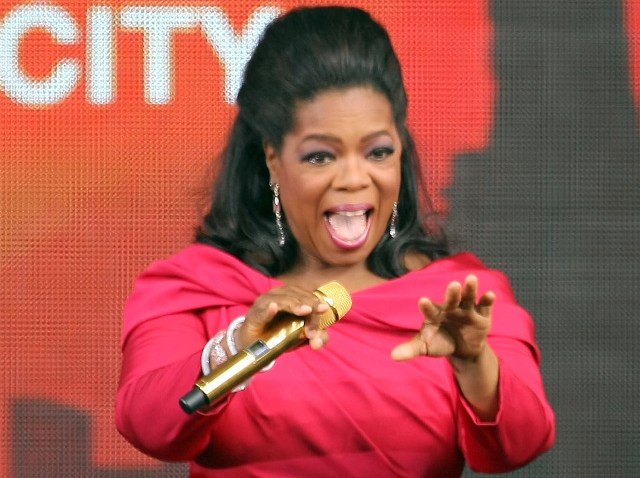 Oprah Winfrey was in a bit of a pickle when it came to launching her Oprah Winfrey Network in January 2011.

Mainly, she's not allowed to broadcast her top-rated talk show on the network because she's contractually obligated to keep it in local syndication until her deal ends in December 2011.

So she's created a reality show about the end of her show.

OWN announced Tuesday afternoon the creation of "Behind the Scenes: Oprah's 25th Season," a weekly reality show about the production of her featured show.

The behind-the-scenes show is billed as "a one-hour primetime docu-series featuring a rare behind-the-scenes glimpse of The Oprah Winfrey Show."

"For the first time ever, viewers will get to see behind the curtains of The Oprah Winfrey Show," said Christina Norman, chief executive officer in a statement. "'Behind the Scenes: Oprah's 25th Season' will document what will be the most amazing season, yet."

The new show solves a critical problem for the Oprah Winfrey Network: how to launch an Oprah-themed network without featuring the starring lady doing what she does best.

Well played, Oprah.

Along with the behind the scenes show, OWN announced four new prime-time shows for the network. We'll let the press release do the talking about those:

KID-NAPPED (working title)
This series will let kids turn the tables on their workaholic parent, allowing them the chance to "kidnap" the offending parent and officially ban them from work, even confiscating their blackberries and cell phones. By forcing some quality time together, the kidnapped parent is under the kids' control until deemed properly cured. This one-hour program is a UK format produced by Love Productions.

MIRACLE DETECTIVES (working title)
Two investigators, one a believer and the other a skeptical scientist, travel the earth to uncover answers to mysterious incidents that transcend logic. In each episode of this series, the investigators will delve deeply into two different miracles. In their quest to find conclusive answers and support their case, they will visit the site of the incident and any other locations that are vital to collecting data about the event. Speaking to witnesses, authorities, and experts, these investigators will do what it takes to explain what just may be a miracle. This one-hour program is produced by Pilgrim TV and Film.

SEARCH (working title)
Using the expertise of renowned search specialist and New Jersey housewife Pam Slaton, this series features three people from diverse backgrounds who are looking to find someone they love. Some individuals may be looking for a lost love, others may be trying to find a missing family member, while others may be looking to make amends with someone from their past. Whether separated by adoption, tragedy, or simply by chance, this program will follow each person as they embark on an emotional journey. This one-hour show is produced by Stuart Krasnow Productions.

SENTENCED (working title)
Set at Rockville Correctional Facility, a maximum-security women's prison in Rockville, Indiana, this series will track the personal journeys of real-life "women behind bars," including their ties to family and the lives they try to sustain on the outside. Whether they are in for the short term or in for life, this program will explore the ways in which this particular prison can be a source of rehabilitation and hope. This one-hour show is produced by 44 Blue. Rasha Drachkovitch is Executive Producer.