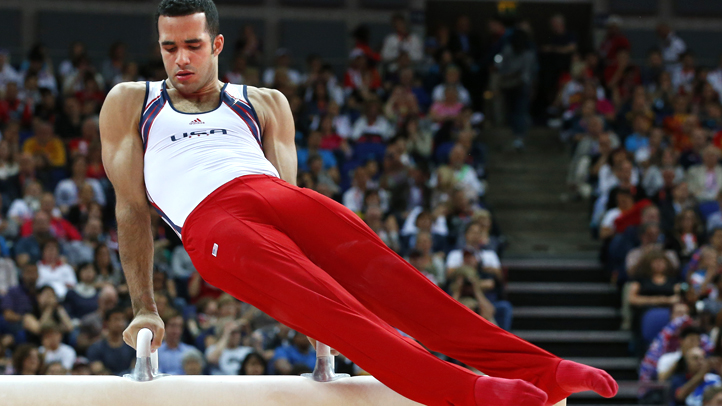 The American men's gymnasts will attempt to redeem themselves after failing to medal in the team competition when the individual all-around finals take place Wednesday morning.
John Orozco of New York and Danell Leyva of Miami will represent the United States in the grueling six-event rotation.Both are stand-out gymnasts who had a rough go in the team competition Monday.
Despite coming in first overall in the qualification round, Leyva slipped from the pommel horse. Orozco, the U.S. champion, fell from the horse and blew his landing on the vault, ending up on his backside instead of his feet.
It was a disappointment for a team many thought had a good shot at winning at least the bronze.
Wednesday's competition will be streamed on NBCOlympics.com at 11:30 a.m. ET.
More star-studded swimming events are on tap too. After coming in first and second, respectively, in their 200m individual medley heats Wednesday morning, Ryan Lochte and Michael Phelps will face each other in a semi-final at 3:37 p.m. ET. This will be the first time they will compete against each other since Lochte shut out Phelps Saturday, and also since they medaled together on the 4x200 freestyle relay team. Lochte also came in first in his heat for the 200m backstroke Wednesday morning and will swim in the 2:28 p.m. ET race.
Individual gold medalists Missy Franklin and Allison Schmitt are expected to join together on the women's 4x200m relay.
In addition, top American Nathan Adrian will try to knock off Australian favorite James Magnussen, known as "Missile," on his home turf, in the 100m freestyle.
Japan's Kosuke Kitajima, already considered the greatest breaststroker of all time, is hoping to complete a third straight sweep of the 100m and 200m breaststroke events as he takes on the longer race tonight.
In the men's synchronized springboard final, diving's odd couple looks to continue its winning ways and help the U.S. onto the medal podium. Separated by 13 years and 1,700 miles, four-time Olympian Troy Dumais and Stanford freshman Kristian Ipsen won world silver in 2009 just months after they began training together.
At 32, Dumais, who hails from Austin, Texas, is the oldest member of the U.S. diving squad, affectionately called "Grandpa" by his teammates. He joins Greg Louganis as the only U.S. male diver to make four Olympic teams, though he has yet to win a medal. Ipsen will be competing in his first Olympics, yet is quite accomplished for a 19-year-old. He has 20 national titles, one world championship silver medal, one silver world cup and another junior world title to his name.
The men's synchronized springboard consists of six rounds of dives and will be streamed live on NBColympics.com at 10 a.m. ET.
Other events Wednesday include:
* A qualifying round for USA's Jake Gibb and Sean Rosenthal in men's beach volleyball at 11:30 a.m. ET. The duo lost to Poland Monday night so will be looking to get back to winning form.
* Women's individual time trial beginning at 7.30 a.m. ET. American Evelyn Stevens, who only bought her first bike in 2008 and gave up a career on Wall Street, is among the medal favorites.
* Beach volleyball quarter final for American duo Misty May-Treanor and Kerri Walsh Jennings, taking on Austria at 6 p.m. ET.
For a full local listing of events being shown all day on NBC, the NBC Sports Network, Bravo, CNBC, MSNBC, the NBC Olympic Soccer Channel, the NBC Basketball Channel and Telemundo, please see NBCOlympics.com, where you can also find listings for all livestreamed events.