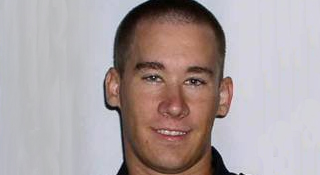 DALLAS — A Dallas police officer who drew his gun after pulling over an NFL player rushing to see his dying mother-in-law apologized Friday for his actions.
The statement from Officer Robert Powell was released through his attorneys and referred to his traffic stop last week of Houston Texans running back Ryan Moats.
"I wish to publicly and sincerely apologize to the Moats family, my colleagues in the Dallas Police Department, and to all those who have been rightfully angered by my actions on March 18, 2009. After stopping Mr. Moats' vehicle, I showed poor judgment and insensitivity to Mr. Moats and his family by my words and actions," Powell's statement reads.
In the statement, Powell said he's attempted to reach Moats but has been unsuccessful.
"Again, I am very sorry for what I did and ask for the forgiveness of all those touched by these unfortunate events," Powell said.
No message could be left for the Moats family on Friday evening. Ryan Moats' agent did not immediately return a message left by The Associated Press.
Powell, a three-year veteran of the force, was placed on paid administrative leave Thursday pending results of an internal investigation into the incident. His attorney declined to comment beyond the statement.
Dallas Police Chief David said he was embarrassed and disappointed after viewing video from a dashboard camera inside the officer's vehicle.
Powell stopped Moats' SUV outside Baylor Regional Medical Center in the Dallas suburb of Plano after the vehicle rolled through a red light. Moats, his wife, Tamishia, and other relatives were also in the car.
The officer ordered Moats to get back in the SUV, but after pausing for a few seconds, she and another woman rushed into the hospital. She was by the side of her mother, 45-year-old Jonetta Collinsworth, when she died a short time later from breast cancer.
"Get in there," said Powell, yelling at 27-year-old Tamishia Moats, as she exited the vehicle. "Let me see your hands!"
"Excuse me, my mom is dying," Tamishia Moats said. "Do you understand?"
Ryan Moats later said the officer pointed the gun at his wife and then at him.
During the stop, Ryan Moats explained that he waited until there was no traffic before continuing through the red light. When Powell asked for proof of insurance, Moats grew more agitated and told the officer to go find it.
"My mother-in-law is dying! Right now! You're wasting my time!" Moats yelled. "I don't understand why you can't understand that."
As they argued, the officer got irritated. "Shut your mouth," the officer, 25, said.
Powell also tells Moats he can make things very difficult for him and threatened to impound his car and jail him.
By the time the 26-year-old NFL player received a ticket and a lecture from Powell about attitude, about 13 minutes had passed. When he and Collinsworth's father entered the hospital, they learned Collinsworth was dead.
Moats, a third-round draft choice of the Philadelphia Eagles in 2005 out of Louisiana Tech, was cut by the Eagles in August and later signed with the Texans. In three seasons as a backup, he's rushed for 441 yards and scored four touchdowns.
He was a standout at Bishop Lynch High School, a private school in Dallas, rushing for more than 2,600 yards and 33 touchdowns as a senior.
Copyright AP - Associated Press