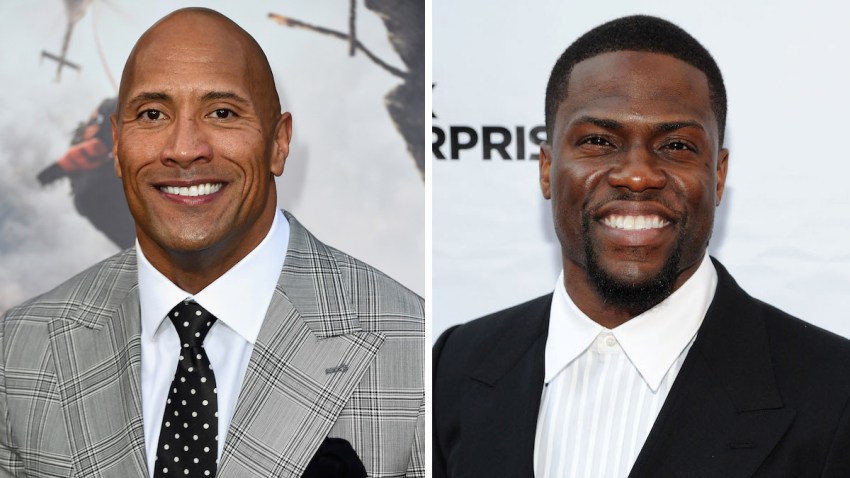 The hosts for the MTV Movie Awards 2016 have just been revealed — and they're definitely going to bring the laughs.
Dwayne "The Rock" Johnson will take center stage with none other than Kevin Hart on April 10 for this year's main event.
The two actors will also be gearing up for their upcoming flick together, "Central Intelligence," which is slated to hit movie theaters on June 17.
"It's an honor to be hosting the MTV Movie Awards with a guy who's not only one of the funniest guys on the planet, but who's often mistaken as my twin, Kevin Hart," Johnson said in a press release. "We live for our fans and promise to make this an epic, historic unforgettable night for them."
"I love hosting — it's my thing," added Hart. "Dwayne and I are the perfect team for the epic 25th anniversary show. It's going to go down."
VIDEO: Kevin Hart is bringing hip hop to Coachella 2016
In an ironic twist, Amy Schumer was last year's host and she was offered some sage words of wisdom from Hart before she hosted yet another major show, "Saturday Night Live."
Schumer posted a screenshot on Twitter of Hart's text message to her and captioned it, jokingly, "Hostile text."
So what were Hart's major pointers for the evening?
"If you get nervous during your monologue just tell the audience that you know me. I promise it will help. Or you can just FaceTime me but I probably wouldn't be able to pick up because I'm busy doing stuff," he wrote.
"Just spit balling here...I'm trying to help...you know what f--k it...you will be fine...I hope...God bless...K Hart out," the comedian added.
We wonder if Schumer's planning on dishing any advice to the "Ride Along" star in response to Friday's hosting announcement?
RELATED: Check out the winners from the 2015 MTV Movie Awards
Both Hart and Johnson have been nominated for MTV Movie Awards in the past, with the former actually taking home the Comedic Genius Award last year.
During his acceptance speech, the 36-year-old thanked his family and fans for their support all throughout his illustrious career.
"I wanna thank my fiance for being my rock right now," Hart told the audience at the time. "I wanna thank my ex-wife for giving me these two kids who are my best friends right now. Heaven for being the most amazing daughter, Hendrix for being the most amazing son. My kids, I'm doing all of this for them. I'm trying to leave a legacy for them. Last but not least my fans, this is for y'all, I love y'all."
April 10th can't come soon enough.
PHOTOS: Look back at the 2015 MTV Movie Awards: red carpet arrivals
Copyright E! Online