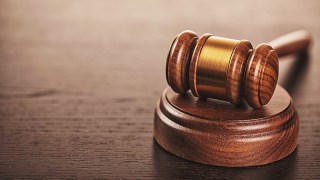 A 45-year-old man pleaded guilty Wednesday in the samurai sword slayings of his ex-wife, her two children, her boyfriend and a NASA scientist at their California desert home, according to the Los Angeles County District Attorney's office.
Jae Shim pleaded guilty to five counts of first-degree murder and agreed to testify against his friend, avoiding a possible death sentence in the 2008 Quartz Hill slayings, according to a statement from the district attorney's office. Shim faces five consecutive life terms if he testifies truthfully against Steve Kwon, who was charged in the same case as Shim.
The victims were stabbed with a samurai sword and bludgeoned with a baseball bat at the house where Shim's ex-wife, Young Park, was living with her cousin.
Shim admitted killing Park's cousin's husband, Joseph Ciganek, a 60-year-old NASA engineer. He also said he killed Park's boyfriend, Si Young Yoon, and dumped his body in Mexico.
"We're happy that there's some closure for the victims' family (members)," said defense attorney Dan Kuperberg.
He noted that a hearing last June in which the victims' family members urged Los Angeles Superior Court Judge Larry Paul Fidler to speed up the trial motivated the defense to "try to resolve this case if we could."
"Their pain was obvious and evident. It affected all the lawyers. It affected Mr. Shim," Kuperberg said.
Shim's sentencing hearing is scheduled for May 5.
Kwon, 44, is awaiting trial on five counts of capital murder, one count of arson of an inhabited structure and one count of accessory after the fact. His next court date is scheduled for April 2.