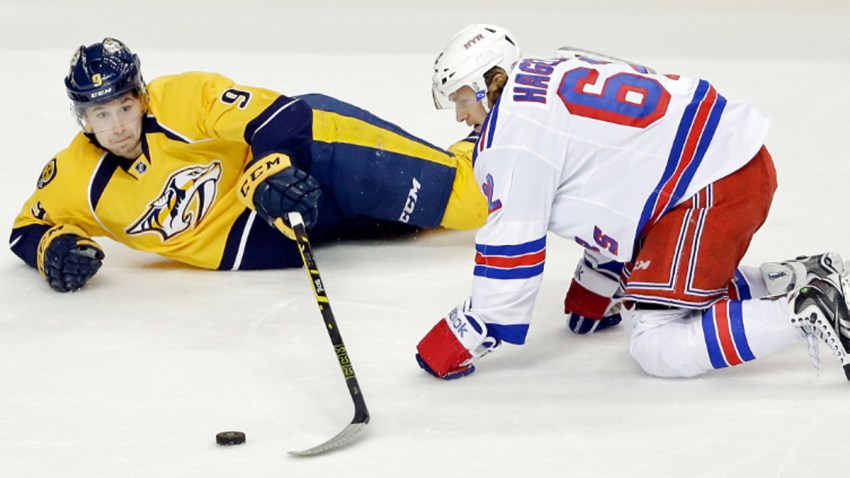 Mike Ribeiro scored with 7:14 left in the third period and the Nashville Predators bounced back from a rare home loss to beat the New York Rangers 3-2 on Saturday.
The Predators, coming off their third regulation loss at home this season against Anaheim on Thursday night, improved to 11-0-1 after a regulation loss this season. Pekka Rinne made 30 saves in his second game back from a knee injury.
Ribeiro's goal was his 700th career point. Roman Josi and captain Shea Weber also scored. Josi also had an assist in giving Nashville defensemen 134 points and 36 goals this season, both the most in the NHL.
News
Top news stories in the tri-state area, in America and around the world
Rick Nash scored his league-leading 33rd goal, and Ryan McDonagh also scored for the Rangers. They had won three straight.
Cam Talbot got his second straight start in net for the Rangers with goalie Henrik Lundqvist out at least three weeks with a vascular injury after taking a puck in the throat a week ago. Talbot had a shutout win in his last game at Nashville last season, just 90 miles from where he played college hockey in Huntsville, Alabama.
The Rangers have been pretty dominant against Western Conference teams this season and better on the road at 7-1-0. They also had won four straight in Nashville.
Copyright AP - Associated Press