Police are looking for a group of 10 young men in a series of quick-hitting thefts at sneaker stores on the Upper East Side.
The group of alleged thieves, believed to be in their late teens to early 20s, have hit a Nike store and a Jack Rabbit store on Third Avenue at least three times since June, swiping up to $2,500 in merchandise each time.
[NATL] Eclipse From Space: See the Moon's Shadow Race Across Earth
Surveillance video from one of the shops shows the group flooding the store while carrying shopping bags, then grabbing stuff and running out the door.
Residents described the crime spree as "shocking."
"For them, they see it as, do it by the masses and it probably gives them a higher probability of getting out," said Jaryd Lindheim, who lives in the neighborhood.

Treasure Trove of Photos Capture a Changing New York City in the 20th Century
"It rattles you a little bit, you want to make sure you're living in a safe area," he added.
On June 20, the thieves went to the Jack Rabbit store at 1051 Third Ave., grabbed about $2,000 worth of merchandise and fled, police said.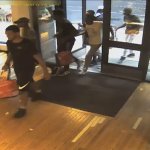 On July 10, the same group went to the Nike Store at 1131 Third Ave. and grabbed about $1,200 worth of merchandise and ran away.
The thieves returned to the Nike store on July 14 and grabbed about $2,500 worth of merchandise, then fled.
Anyone with information is asked to contact Crime Stoppers at 800-577-TIPS.
[NATL] Top News Photos: Pope Visits Japan, and More