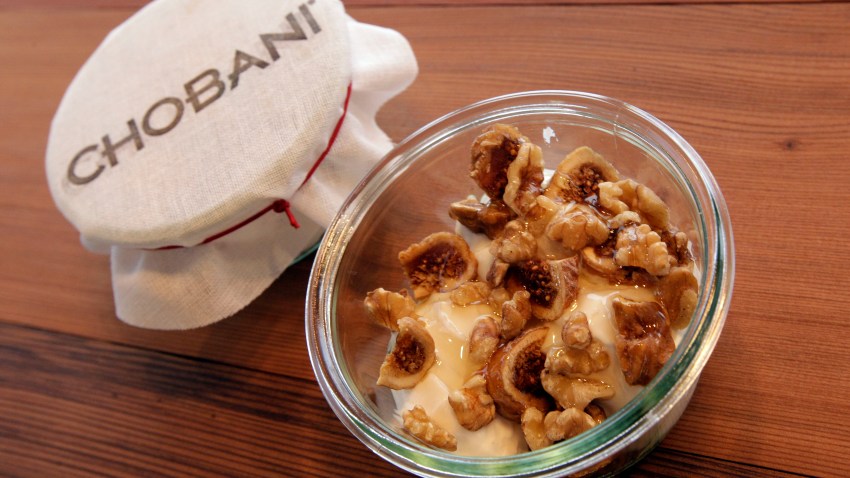 New York officials promised Wednesday to try to cut regulations and costs for farmers and producers to capitalize on a national boom in Greek-style yogurt.
Gov. Andrew Cuomo said he'll pursue easing an environmental regulation that would help smaller dairy farms grow, seek ways to help farms get cheaper energy, and help farmers sell energy back to the electrical grid.
Toward the end of Cuomo's four-hour "yogurt summit" and after a brief scrum with the governor and his commissioners, Agriculture and Markets Commissioner Darrel Aubertine announced the state would change a regulation regarding large feedlots.
Dairy farmers had argued in the morning that the feedlots known as "concentrated animal feeding operations" require huge investments in barns and facilities if a herd goes over 200 head, limiting growth for small farms. But such a regulation change requires public hearings and further analysis, Cuomo confirmed to reporters later.
Greek-style yogurt is creamier and less sweet than more traditional yogurt and requires more milk in its production. Cuomo told the group the boom, already expanding in New York, is the kind of opportunity that comes around once every 30 or 40 years.
"This is our time," he said. "So let's seize the moment."
Farmers and yogurt manufacturers praised the Cuomo administration's effort to connect with and help agribusiness. Many of the regulations they complained about, however, are environmental protection measures to keep chemicals and animal waste from polluting the water and land. No environmental advocates were invited.
The Sierra Club and other environmental groups told WXXI Radio that they are "very concerned" with the proposal that could eliminate standards to protect waterways for drinking and recreation.
However, political support for growing the already-thriving New York yogurt industry was high.
"If we make it our mission, there is no reason we can't make New York state the yogurt capital of the nation, if not the world," said Assembly Speaker Sheldon Silver, a Manhattan Democrat.
In Washington, Sen. Charles Schumer renewed his push for a Dairy Augmentation for Increased Retail in Yogurt Products Act, which would give dairy farmers tax benefits to help expand production.
"Greek yogurt is popping up on shelves in supermarkets from coast to coast, and its popularity is creating a golden opportunity," Schumer said.
New Yorkers Against Fracking and other opponents of shale gas drilling protested outside wearing cow costumes. They say hydraulic fracturing, a process in which water and chemicals are shot into shale to release natural gas, threatens the water supply and dairy farms that depend on it.
"A strong dairy industry in New York will depend on a healthy environment and a future of renewable resource energy, not the continued reliance on drilling methods that are known to pollute our lands and waters," said Siobhan Griffin, a dairy farmer from Schenevus, New York, speaking for New Yorkers Against Fracking.
Get the latest from NBC 4 New York anytime, anywhere. Follow us on Twitter, Facebook and Google+. Get our apps here and sign up for email newsletters here. Get breaking news delivered right to your phone -- just text NYBREAKING to 639710. For more info, text HELP. To end, text STOP. Message and data rates may apply.

Copyright AP - Associated Press