A man who followed a woman into her Upper West Side apartment building ended up putting her into a choke hold and slamming her against a wall in a brazen robbery, police say.
The 40-something-year-old man told the 60-year-old woman last month that he was going to cut her, but was suddenly startled away by another resident who interrupted the hallway robbery, according to the NYPD.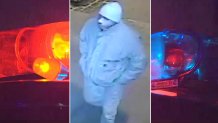 The man only ended up getting away with the woman's empty key chain wallet. The victim suffered minor injuries and was treated at the scene, cops said.
Investigators are urged to call Crime Stoppers with tips that could land the man behind bars.
Top Tri-State News Photos