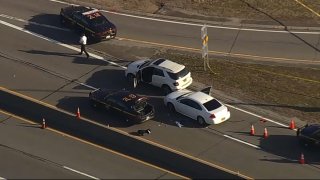 What to Know
The New York State Police are currently investigating a trooper-involved shooting on the Northern State Parkway near the Sagtikos Parkway in Suffolk County
Authorities say the incident began just before 2:30 p.m. when troopers responded to a call of a person with a weapon on the Meadowbrook Parkway
The suspect was wounded and taken to a local hospital. No troopers were injured in the incident
The New York State Police are currently investigating a trooper-involved shooting on the Northern State Parkway near the Sagtikos Parkway in Suffolk County.
Authorities say the incident began just before 2:30 p.m. when troopers responded to a call of a person with a weapon on the Meadowbrook Parkway.
Troopers allegedly chased the suspect onto the Northern State Parkway -- and, for reasons still unclear, shot the suspect.
The suspect was wounded and taken to a local hospital. Their condition is currently unknown. No troopers were injured in the incident.
The Northern State Parkway remains closed in both directions at Exit 42 and Exit 45 westbound as the investigation continues.
Copyright NBC New York