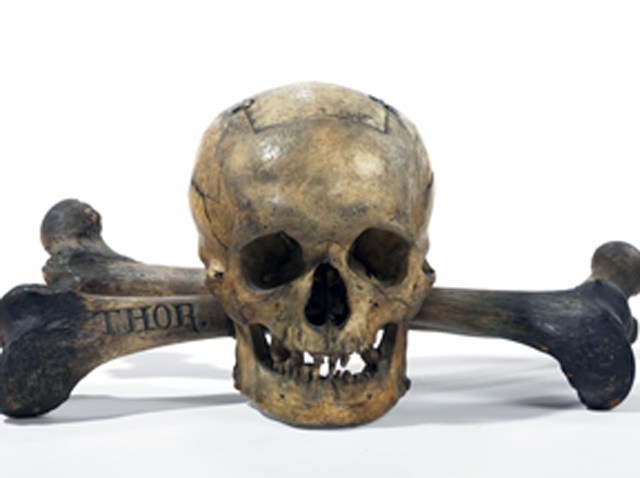 Yale's Skull and Bones society could very well be the most exclusive and secretive club in the country. But now you may be able to buy a rather macabre memento from it.
Christie's auction house in Manhattan is auctioning off a skull, which is believed to have been used as a ballot box by the society's members around 1872. The skull has a hinge on top and is surrounded by crossbones, according to the Associated Press.
The Skull and Bones society was founded in 1832, and has kept its members' names closely guarded, although it is publicly known that both President George H.W. Bush and President George W. Bush were members.
The book is inscribed with the name Edward T. Owen, who is believed to have owned the skull, and the numbers 1872 on one side and 322 on the other. Owen graduated in 1872, and is is believed 322 refers to 322 B.C., when the orator Demosthenes died.
The inscription on the right cross bone, Thor, "could be a name which would have been assigned to a member upon induction," according to Christie's.
The winning bidder will get something that could be more valuable than the skull. He or she will also get a black book with names and pictures of earlier members.
It contains the names and photographs of about 50 Bonesmen, including Taft, who became the 27th president of the United States; Morrison Remick Waite, who became U.S. chief justice in 1874; and William Maxwell Evarts, who served as U.S. secretary of state and U.S. attorney general.
Skull and Bones invites 15 Yale seniors to join each year. Bonesmen swear an oath of secrecy about the group and its strange rituals, which include initiation rites such as confessing sexual secrets and kissing a skull.
Christie's believes the skull and book will go for somewhere between $10,000 to $20,000 when it goes up for auction Jan. 22.
The auction house has agreed to keep the seller's name a secret, describing the person only as a European art collector.
Copyright AP - Associated Press