Police have identified a suspect in the Brooklyn shooting they say injured a man and a baby boy.
Lyemel Summerville, 19, is the person police want to find in connection with the Aug. 19 shooting in East New York, according to the NYPD.
The shooter, identified by cops Thursday morning as Summerville, got into an argument with another man in the area of Junius Street and Sutter Avenue and pulled out a gun, police said.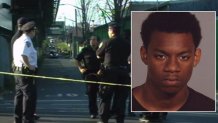 He fired the gun one time and hit the 20-year-old victim in the leg, according to police. The bullet went through the victim's thigh and grazed a one-year-old boy in the knee, officials said.
Both victims were taken to area hospitals in stable condition, authorities said.
Police say they are still looking for Summerville.
Top Tri-State News Photos