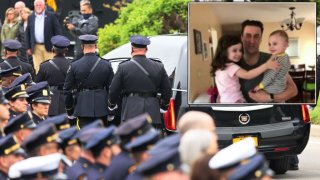 A veteran NYPD officer who was struck and killed by an alleged drunken hit-and-run driver last week as he was directing traffic away from the scene of an earlier deadly crash was memorialized Tuesday at a funeral.
Officer Anastasios Tsakos, 43, was on the Long Island Expressway in Queens exactly a week ago when he was struck by a car driven by a woman who was intoxicated and driving with a suspended license, Police Commissioner Dermot Shea said.
The fallen officer was a 14-year veteran of the police department and is survived by a wife and two young children — a 6-year-old girl and a 3-year-old boy.
On Tuesday, fellow NYPD officers, family and loved ones made their way to St. Paraskevi Greek Orthodox Shrine Church in Greenlawn, Long Island, to say their final goodbyes to Tsakos. The church is the same spot where hundreds of colleagues gathered the night before to support the family.
The funeral procession was led by highway patrol officers from across the tri-state.
His Eminence Archbishop Elpidophoros of America, who presided over the funeral ceremony, said that Tsakos "was taken all too soon" adding that he served in the NYPD with "honor, dedication and service above and beyond the call of duty."
Irene, Tsakos' widow, said, voice breaking, that her husband "was an amazing person...a good man. He truly was. He was kind to everyone and helpful to anyone."
"He cared about people. He truly cared. If he could make [someone's] life a little easier, he would do it. It mattered to him," she said, adding that her husband also had a witty sense of humor, was an "eternal optimist" and was an "awesome, awesome person."
"Tsakos, you are the love of my life. I hope I made you proud ... I love you always and forever," Irene said through tears as she eulogized her husband, who she said was a devoted husband and father. "He would often tell me, 'I wake and sleep with you and the kids in mind. Everything I do, I do for you.'"
"I wish he had more time — to watch our kids grow, see them off to college and get married," she said. "I wish we could grow old together. That was the plan. But he was taken from us too soon."
Mayor Bill de Blasio, who also attended the services, said that loved ones, the city and the entire NYPD is in mourning.
"His heroism uplifts us. Some people are true heroes. Some people are there for others -- and that, if every way, was Anastasios Tsakos," de Blasio said, adding "that was his heart, to serve others."
"It does not make sense how someone could live his life right in every way and be taken from us so horribly, but his heroism uplifts us," Bill de Blasio told mourners. "Some people are true heroes. Some people are there for others. And that in every way was Anastasios Tsakos."
Shea and Pat Lynch, the head of the Police Benevolent Association, said Tsakos was a favorite among the officers in his highway unit.
Tsakos, raised in Greece and New York City, served in the Greek army after high school, worked in his father's diner on Long Island, studied aviation in college and dreamed of flying helicopters for the NYPD, Shea said. The commissioner added that members of Tsakos' unit "describe him as the best of the best, describe him as a person that would never ask why, just, 'What do you need done?'"
The police commissioner posthumously promoted Tsakos, known to friends as Taso, to detective first grade and presented a gold detective shield to his wife, Irene.
Lynch said the two highest compliments a police officer can bestow on a fellow officer are "he's a cop's cop" and "he's a good guy."
"You heard them both in this emergency room," Lynch said. "Yes, he was a good guy."
"As we are gathered here today...we are shocked, scared, angered at the unfairness, and senselessness that took him from us," Shea remarked during Tsakos' funeral service Tuesday morning.
"We seek to make sense of this to understand why it happened," Shea said, adding: "As family, as friends, as a community, we express our sadness. We acknowledge the great importance of Tsakos' life and we acknowledge the loss that his passing brings to all of us. Although we must bravely face the fact of his death, we owe it to Tsakos and to ourselves to celebrate his contributions to this world.
"His journey to assist other highway officers on the Long Island Expressway last Tuesday changed all of our lives forever."
During Tsakos' funeral service, de Blasio also stressed that the state must work together to strengthen the laws and create stiffer penalties for those who drive intoxicated and hurt or kill someone.
The 32-year-old woman arrested on vehicular manslaughter charges in Tsakos' death has admitted smoking marijuana and drinking alcohol before getting behind the wheel that fatal morning.
Cops say Jessica Beauvais' blood alcohol level was nearly twice the legal limit when she was apprehended after fleeing the crash scene.
As she was being walked out of a police station in handcuffs the afternoon of Tsako's death, a tearful Beauvais said, "I'm sorry because I hit him and that he's dead."
Copyright NBC New York/Associated Press