What to Know
A man dragged a brown leather couch onto the subway Monday afternoon
Instagram user @makebistro took a video of the man dragging the couch from the platform and sitting on it during the subway ride
The post is now going viral on Facebook and Instagram, including on the account @SubwayCreatures
Sometimes it's hard to find a seat on the subway.
Sometimes you wish you were reclining across two seats of brown leather on your way home, instead of elbowed in between two other commuters on a cold piece of yellow plastic. One straphanger has found a solution to both problems.
Instagram user @makebistro took a video Monday afternoon when he witnessed a man drag a chocolate-brown leather couch onto the subway at Union Square.
In the video you see the man drag his sofa from the platform onto the subway and then sit on the couch during the ride.
Another video, posted by Instagram user @_issa_bomb_ shows the man reclining on the moving '4' train. She said it had taken the man about six minutes to get the train, holding up fellow passengers.
Over on Reddit, another witness said he walked by the man around 6 p.m. Monday near the 23rd Street subway station.
"So, basically, that thing resting on the couch beside him is either a folded-up wheelchair or walker, I couldn't tell, but he had the couch f****** BALANCED on it on the back bottom edge, and was wheeling it down the sidewalk swearing loudly and jumping from one end to the other as it kept starting to tip off the tiny wheelchair thing," AlterdCarbon wrote.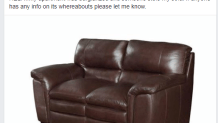 Meanwhile members of a Bushwick Facebook group were having fun with the video. One user posted an image of a similar-looking couch to the group: "HELP...My apartment was burglarized and someone stole my sofa. If anyone has any info on its whereabouts please let me know," he wrote.
"Nobody stole it," Eddie Bermudez responded. "It ran away with another man. I saw them on the train and he was ALL over it..."

Only in New York.