What to Know
Cuomo announced plans to build a $151 million elevated promenade and seawall to protect Staten Island's southern coast from severe flooding
The seven-mile long seawall promenade will be built up to 20 feet above sea level and will stretch from Fort Wadsworth to Oakwood
Construction is slated to begin in 2019 and completed by 2022
Gov. Cuomo has announced plans to build a $151 million elevated promenade and seawall to protect Staten Island's southern coast from severe flooding.
Cuomo on Tuesday said the coastal resiliency project will also create new wetland habitats and recreational amenities, including biking and walking pathways and easy access to beaches.
The seven-mile long seawall promenade will be built up to 20 feet above sea level and will stretch from Fort Wadsworth to Oakwood. It will include concession stands, lookout stations, LED lighting and a bike route, the governor said.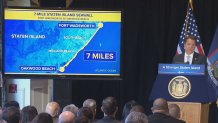 The seawall will protect against a storm at least the size of Hurricane Sandy.

The Department of Environmental Conservation will hold a series of forums to allow community input on the final design, which is expected to be complete by the winter of 2018.
Construction is slated to begin in 2019 and completed by 2022.
Copyright AP - Associated Press