Police tranquilized and captured a coyote that was spotted wandering through lower Manhattan on Saturday morning, according to the NYPD.
An NBC 4 New York crew caught the animal on video as it trotted down Battery Park Place near Battery Park early Saturday.
"1 coyote in custody," the 1st Precinct said on Twitter, adding that the coyote was awake and unharmed.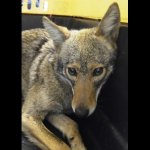 The coyote was tranquilized at 375 S. End Ave. near the World Trade Center. The canine was taken to Manhattan Animal Care and Control.
First responders and other emergency personnel were in lower Manhattan earlier on Saturday trying to track the coyote down.
Saturday's incident was the latest in a string of coyote sightings this week. Police spent hours chasing a coyote in the Upper West Side on Wednesday. Then on Thursday night a coyote was pursued by police in Morningside Heights.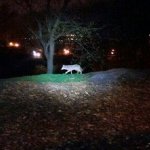 At least four different coyotes have been spotted in Manhattan so far this year, including in Chelsea, the Upper West Side and Stuyvesant Town, according to Sarah Aucoin, the director of the city's Urban Park Rangers program.
In March a coyote was spotted wandering on top of a bar in Queens.
Rabid coyotes have been turning up in New Jersey as well. A man walking his dog was attacked earlier this month in Bergen County by one of the canines. The man later tested positive for rabies.