What to Know
Malls in New York City and casinos across the state reopened Wednesday at limited capacity
Going forward, every school district will have to submit COVID reports to the state daily -- and the state will issue COVID "report cards" for every school in the state, Cuomo said Tuesday
Currently, travelers from 35 "hotspot" states and territories must quarantine for 14 days after arriving in New Jersey, New York or Connecticut; Delaware, Maryland, Ohio and West Virginia were added Tuesday
New York City restaurants will be allowed to resume indoor dining on Sept. 30 with an extensive set of rules, Gov. Andrew Cuomo said Wednesday.
Restaurants be limited to 25 percent capacity, all customers will be required to wear masks (except when seated at their table) and submit to temperature checks, and one member of each party will have to give contact tracing information. There will be no bar service and restaurants must close by midnight — and the public will be asked to anonymously report violations by phone or text.
"This may not look like the indoor dining that we all know and love, but it is progress for restaurant workers and all New Yorkers," said Mayor Bill de Blasio.
The governor set a Nov. 1 deadline to reassess the infection rate, currently below 1 percent for the 33rd straight day — and if it is not rising at that time, indoor dining capacity might double. But if the infection rate rises to 2 percent, the city said, dining would be reassessed immediately. New York City last saw over 2 percent of COVID-19 tests come back positive in early June.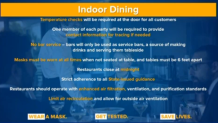 "If there's a spike, then bang — we can hit pause," Cuomo said. "We can always reassess the guidelines and 50 percent would be the next increase ... We'll just watch it and see what we hear and study the evidence."
Cuomo's announcement caps days of increasing clamor from restaurant owners, who said the state had little excuse to keep them closed when malls and casinos were open and when indoor dining was already available just miles away.
Cuomo had said the problem was compliance -- or in the city's case, a lack of enforcement of it. But he said Wednesday the city will contribute 400 personnel to an existing task force of the State Liquor Authority and state police to ensure compliance with the new orders -- a deal apparently hammered out not just with Mayor de Blasio, but with other city officials too.
"We have been talking to all stakeholders up until the moment I just walked out," Cuomo said at a Manhattan news conference, and added that customers will essentially have to to police themselves. "This is good news and the right step forward, especially for restaurant owners and staff who have been struggling through this time. But it is up to all of us to ensure compliance and the health and safety of those around us."
"New Yorkers will keep New York safe," he added.
During his press conference Wednesday morning, before the governor's announcement, de Blasio said that the city had been talking with health care professionals "to make sure that whatever is done, is done safely," and said it comes down to more than just enforcement.
"It's how something should happen, when it should happen, what standards, what would indicate if there was a point" where restaurants would have to shut down again, de Blasio said. "But there's more work to be done, and then obviously we do the enforcement here on the ground, and our resources are being stretched in a lot of different directions, but we'll have to figure out a way that we feel confident about the enforcement."
The mayor also said that indoor dining has been one of the "contributing factors in some of the resurgence in Europe," so the city will be careful with how everything is handled. De Blasio had said in late June that the city was on track to allow indoor dining at half capacity starting July 6. But it was put on hold over worries about the risk of dining in crowded, enclosed indoor areas where people are talking loudly and drinking.
Restaurant owners say their businesses have been down 70 percent since March and were outraged indoor dining had been available in neighboring parts of the state, as well as in New Jersey, but not in the five boroughs. Many in the industry praised Cuomo's decision, and even more so are hopeful the capacity limit will be able to increase soon.
"Running a restaurant is a labor of love, and along with many colleagues and staff members, we have struggled through the unparalleled challenges of this pandemic, working our best to safely provide hospitality to hungry New Yorkers via curbside pickup, deliveries and outdoor spaces, not knowing how much longer we can go," said NYC restaurateur Danny Meyer. "I join my colleagues in thanking the Governor for opening the door to a safe and gradual recovery by providing a sensible solution for indoor dining and look forward to working with everyone to guarantee the safety of our customers and staff."
Andrew Rigie of the NYC Hospitality Alliance said the plan "is critical to help save these vital small businesses and jobs," while also providing "a blueprint for future expansion."
There still were some dissenters. One restaurant owner in the city seemingly balked at what the governor is asking for in order for indoor dining to restart, saying it
"You're talking about bringing more staff just to fill some of these requirements," said Joe Cannizzo.
Meanwhile, New York went from the epicenter of the national crisis to celebrating more than a full month of daily COVID positivity test rates below 1 percent, which is what allowed establishments like malls, gyms and museums to reopen in the first place. Total hospitalizations are also at six-month lows and daily deaths are in the single digits.
On Wednesday, malls in NYC reopened for the first time since March, allowing customers to return at 50 percent capacity. All the typical social distancing and mask rules apply, and many shopping centers were required to upgrade their air filtration systems. Places like the Kings Plaza Shopping Center and the Staten Island Mall both saw good sized crowds, with shoppers happy to finally return to a late summer tradition: back to school shopping.
Also getting the green light to reopen with limited capacity were casinos, but with no table games or beverage service.
With the return of indoor dining in New Jersey last week, it is too early to tell if it has any negative impact on COVID-19 cases in the state, Gov. Phil Murphy said, but he added that there were "very few reported cases of knucklehead behavior."
"The early returns … are good, we won't know for, you know, something like another week to 10 days, if there is a flare-up as a result of the steps we took," he said Tuesday in a radio interview. "We're going to look back a week or 10 days from now and see."
As of Wednesday evening, the U.S. topped 191,000 coronavirus-related deaths, according to a tally by NBC News. With 6.3 million confirmed cases, the U.S. has the largest coronavirus case count of any country in the world. The three tri-states alone account for nearly three-quarters of a million cases.
Another prime threat to the region is slipping compliance at home. And with schools and more businesses reopening in the coming weeks, post-Labor Day marks a new phase for the area's COVID fight.
Daily Percentage of Positive Tests by New York Region
Gov. Andrew Cuomo breaks the state into 10 regions for testing purposes and tracks positivity rates to identify potential hotspots. Here's the latest tracking data by region and for the five boroughs. For the latest county-level results statewide, click here
Source: ny.gov
A cluster of cases connected to end-of-summer parties on Long Island has already forced one school district to cancel in-person learning, just two days before the scheduled start of classes. The Carle Place School District said a number of people who tested positive for COVID-19 "had close or proximate contact with other students throughout our district."
At NYU, officials are threatening disciplinary action to any students involved in a gathering of hundreds Saturday night in Washington Square Park. The school says more than 20 students have been already suspended for failing to comply with coronavirus safety protocols like social distancing and mask-wearing.
Going forward, every school district will have to submit COVID reports to the state daily -- and the state will issue COVID "report cards" for every school in the state, Cuomo said Tuesday. The accounting will include positive cases of students and staff and daily testing data, among other metrics. And if any school or college campus reaches 100 COVID cases, it will have to move to all-remote immediately, with few exceptions.
Most New York City teachers, meanwhile, headed back to their physical school buildings Tuesday. They'll have a few extra days of prep time, then move to a three-day transitional remote instruction period next week. In-person classes are scheduled to begin on Sept. 21; if that happens, New York City will be the largest public district to have pupils physically in school buildings during the pandemic.
Copyright NBC New York