What to Know
New Jersey voter dissatisfaction is at a 25-year high, the Rutgers-Eagleton Poll found
Gov. Chris Christie now has the lowest rating of any governor in at least 40 years, the poll found
About four in ten voters haven't heard of either gubernatorial candidate, Phil Murphy or Kim Guadagno
Nearly three-quarters of New Jersey voters believe the state is going in the wrong direction, the highest level of voter dissatisfaction in a quarter-century, according to a new Rutgers-Eagleton Poll released Thursday.
Some 73 percent of voters said the state was on the wrong track, the poll said, the highest since 1992.
At least two-thirds of voters in every politiical, gender, race, age and geographic group felt that way.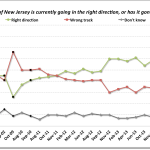 The poll's authors attributed much of the voter discontent to Gov. Chris Christie, whose job favorability rating is now just 16 percent.
That makes him the least-popular New Jersey governor in at least 40 years.
"Views on the state's direction have marched in lockstep with the governor's spiraling ratings since the Bridgegate scandal broke in 2014," said Ashley Koning, assistant research professor and director of the Eagleton Center for Public Interest Polling (ECPIP) at Rutgers University, in a statement.
Christie will be succeeded by either his lieutenant governor, Kim Guadagno, or by the Democratic businessman and diplomat Phil Murphy. The poll found Murphy's favorability rating is six points higher than Guadagno's, though roughly four in ten voters have not heard of either one.
In a head-to-head matchup, most polls give Murphy a lead of 20 points or more in the November election.
The telephone poll of 714 adults, including 660 registered voters, was conducted Aug. 24-28. The margin of error was 4 percentage points.