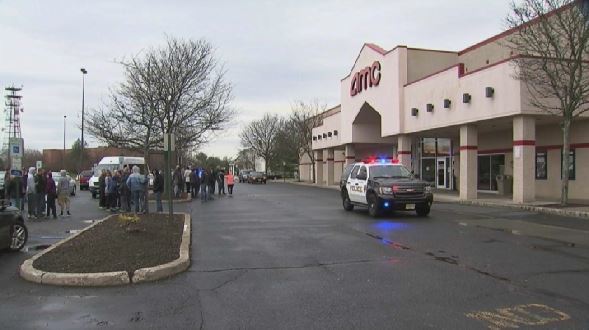 Authorities say they've arrested a 22-year-old New Jersey man in the bomb threats that forced a Freehold movie theater to be evacuated twice this week, including during a showing of "Star Wars: The Force Awakens" Friday morning.
Jesse Carroll of Middletown has been charged with two counts of second-degree public false alarms in what prosecutors are calling a domestic terrorism hoax. He was being held at Monmouth County Correctional Institution in Freehold on $200,000 bail, and a judge ordered him to stay away from all movie theaters.
It wasn't immediately clear if he had an attorney.
In Friday's incident, a series of threatening notes were discovered inside the men's room at the AMC Freehold Metroplex 14 around 11:30 a.m. and the theater was evacuated as a precaution.
The note read: "I'm coming for blood; 4pm bomb, 6pm empty mag in guests."
Similar notes in the men's room at the same theater Monday also forced an evacuation that day.
One customer told NBC 4 New York that he was about to go into the theater Friday for a show when people began streaming out of the theater's exits. Police and bomb-sniffing dogs at the scene.

The theater was shut down for a little more than two hours and reopened after authorities found no explosives or credible threat.
"Cleared the theatre has been, reopened now it is," authorities said in a tweet mimicking the Jedi Master Yoda.
"Making bomb threats in a movie theater is nothing short of domestic terrorism. Thankfully for everyone involved this was a hoax," Acting Monmouth Prosecutor Christopher J. Gramiccioni said in a press release announcing Carroll's arrest. "We have wasted too much time, money and resources with these dangerous and disruptive threats."
"We will continue to fully respond to every threat to protect our citizens, but we are also going to react with the full force of the law every time threats turn out to be hoaxes," Gramiccioni continued.
Several moviegoers took to social media to voice their frustrations at the evacuation on the premiere day of the highly-anticipated film.
"Right at the best part of the Star Wars movie and the movie theater gets evacuated..... Is this a joke," tweeted Conner Fecso.
"THE NEW STAR WARS INCREDIBLE BUT I DONT KNOW HOW IT ENDS BC THE MOVIE THEATRE EVACUATED BEFORE IT ENDED," tweeted another viewer.
After the theater reopened, AMC scheduled another screening at 2 p.m. for viewers affected by the threat, one moviegoer said.
Mass shootings in U.S. movie theaters in recent years -- including the 2012 Colorado massacre in which 12 people were killed and 70 injured during a showing of "The Dark Knight Rises," and the shooting at a Louisana theater showing "Trainwreck" earlier this summer that killed two people and wounded nine others -- have sensitized moviegoers to issues of security.
Movie theater chain Regal Entertainment Group implemented a bag check at its theaters shortly after the Louisiana shootings. The company said "security issues have become a daily part of our lives in America."