Two men were beat up and robbed by a group of armed men who somehow got into their Queens home early Monday, police say.
Cops say four men forcibly made their way into a home on 147th Street and 41st Avenue in Flushing and attacked the two men with a baseball bat and large piece of wood. The group stole hundreds of dollars in cash and cellphones before running out of the house in an unknown direction, according to the NYPD.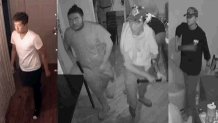 A 24-year-old victim suffered a cut to his head following the attack and was taken to an area hospital to be treated, but his immediate condition was not known. The second victim, a 25-year-old man, was bruised up in the beating but refused medical attention, officials say.
The four men are seen on surveillance footage and police hope somebody will call Crime Stoppers with tips leading to their capture. One of the men is seen holding a large wooden stick.
[NATL] Top News Photos: Pope Visits Japan, and More