A man was shot in the torso inside an illegal gambling place in Queens earlier in the month, police say.
The NYPD said the pair got into a heated argument over money that escalated into one of the men being shot inside the social club in Hollis on June 10 just after midnight.
The 29-year-old victim was shot at least three times by the suspect who then quickly fled the area, officials said.
The victim was taken to an area hospital, where he is listed in stable condition.
Video from the scene shows the pair struggling with each other while one of the men holds a gun in his hand.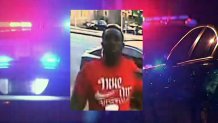 Investigators released a surveillance photo of the suspect in the hopes of catching him.
Top Tri-State News Photos