What to Know
An eight-year-old boy returning home from summer camp was followed and robbed by a thief in the Bronx on Monday, police and his mother say
Once inside the building, the suspect and the boy wrestled for a cellphone, but the man was able to run away with the phone
The boy wasn't hurt in the robbery, but his mother now says he is afraid to go outside
Police are looking for the person who robbed an 8-year-old boy of his cellphone in the Bronx on Monday.
The suspect followed the boy, whose mother says he was coming home from summer camp, into the vestibule of an apartment building in the area of St. Ann's Avenue and East 139th Street just before 6 p.m. and tried to snatch his cellphone from his hands, police said.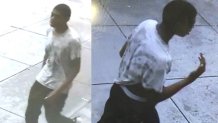 The two briefly tussled in the struggle for the phone, and the suspect managed to rip the phone away and run away.
The boy's mother says her son is now afraid to leave home. The boy wasn't hurt.
He's described as being about 6 feet tall and 150 pounds. Anyone with information is asked to contact Crime Stoppers at 800-577-TIPS or nypdcrimestoppers.com.
[NY ONLY CANVA] These Are the Best Hospitals in New York, According to New Ranking