What to Know
Mike McGhee started a trip around the perimeter of the U.S. on New Year's Day in his hometown north of Atlanta
He has roughed it much of the way, and was even hit by a truck, but arrived in New York Friday
He's already got ideas for his next tour once this one wraps up; "the adventure continues," he said
A Georgia man who is biking around the perimeter of the U.S. has reached New York City as he nears the home stretch of his 13,000-mile journey.
A CNBC reporter ran into Mike McGhee last Friday as he was lugging his 115-pound bicycle up the lofty stairs of the George Washington Bridge. He had come down from Poughkeepsie, and upon arriving in Manhattan he had traveled more than 11,600 miles.
McGhee started his clockwise tour of the states in his hometown of Jasper, Georgia, on New Year's Day. He hugged the southern border of the country before traveling up the West Coast and across the Northern Tier to Maine, then winding down to New York.
The 62-year-old retired veterinarian stops every week or so to rest and log his travels.
"Every once in awhile you've got to clean your clothes," he said.
In New York, that stop was at a biker friend's apartment in Harlem, from which he has a view of the George Washington Bridge. He said he's spent the last few days eating Dominican food, practicing Spanish and taking long walks through the city.
"It's a lot, man," he said of New York, a place this "country boy" had only been to briefly as a 13-year-old on a layover before a flight to Europe.
The night before he arrived in Manhattan, he was sleeping on a forest floor along the Appalachian Trail. In a blog post titled "A Day of Contrasts" he wrote: "I was in for a big one today. I went from the crickets and Owls of last night and possibly being the only human sleeping in a two mile radius, to a city of over eight and a half million souls."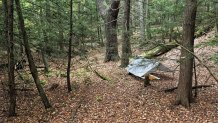 McGhee said Upstate New York is the second most beautiful place he's seen on his trip. First place goes to the Pacific Northwest, specifically the "breathtaking" route from Washington to Glacier National Park.
He arrived in the Northeast just in time; while pedaling through the Adirondacks and east to Maine, he was able to catch the autumn foliage at its peak. The colorful view continued as he was winding down across Connecticut and over the Hudson River in Poughkeepsie.
It hasn't all been smooth sailing though. He was hit by a truck in Texas and suffered a concussion, wiping away any memory of the crash.
"Apparently, I was walking around afterward saying, 'I'm okay,'" he said.
The collision crushed his helmet, destroyed his bicycle and broke his shoulder blade, but he was undeterred. He waited nearly a month for a new bike, which he named "Clara Too" — the successor to "Clara," now mangled by the truck. Clara Too became "ClaraT." More than one person has noted how it rolls off the tongue like "clarity."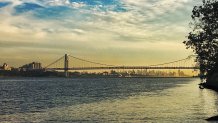 McGhee has a sort of routine. On most days he gets up in the morning, rides 50 or 60 miles, then finds a place to camp and eat; "The next morning you repeat the process, and it just keeps going."
"That's the biggest thing I like about touring," he said. "Just going into a small town, maybe a mom-and-pop diner, sitting down, listening to the conversations. Because I have that funny looking bike, eventually they start asking me stuff."
This isn't McGhee's first long-distance bicycle trip. He's traveled from Yorktown, Virginia, to Florence, Oregon, among other endeavors. But this is his first time encircling the country.
He'll leave New York on Tuesday, riding down to Pier 11 and taking a ferry to Highlands. From there, he'll ride the Jersey Shore towards Virginia.
Once he gets home to Jasper, he'll reunite with his wife, who has booked a trip to the Galapagos next spring. After that, he's thinking about a longterm kayaking tour.
"I know the next thing has to be bigger and better," he said. "That actually scares me a little bit, because this one's pretty big."
You can follow McGhee's travels on his blog.