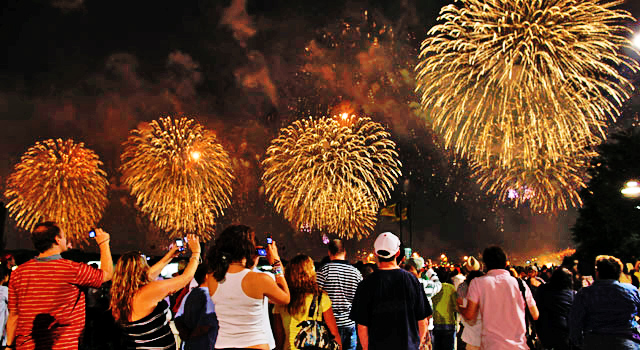 Macy's July 4 fireworks will light up the sky over the Hudson River as crowds descend on Manhattan's West Side for the extravaganza Wednesday night.

Along with performances by Katy Perry and Kenny Chesney, the show, which is being called Ignite the Night, will feature more than 40,000 fireworks in 15 colors and 30 shapes, synchronized to a score of songs from artists like Ray Charles, Madonna and Whitney Houston. The soundtrack, which the public voted on, is being titled America's Mixtape. The fireworks spectacular will be broadcast on NBC 4 New York at 9 p.m.

The 25-minute fireworks display will be launched from four barges and will be visible from any spot with a view of the sky above the Hudson between 18th and 43rd Streets.
Access points to the river will be set up along 11th Avenue from 24th to 57th street.
Parking will not be available in the area, so taking public transportation is recommended.
For those willing to spend some cash to see the fireworks, Hudson River Park will offer exclusive VIP viewing at Pier 84 on West 44th Street and the Hudson for $200 a ticket.
For $100 per person the Sky Room on the 33rd and 34th floors of the Fairfield Inn & Suites, 330 W. 40th St., offers panoramic views of the fireworks.
Chelsea Piers is also hosting several parties with up close views of the fireworks, with tickets ranging from $40 to $175 per adult, and $25 for children.
To watch the fireworks with the Manhattan skyline as the backdrop, choice viewing spots in New Jersey include Weehawken Waterfront Park, Hamilton Park and Maxwell Place Park in Hoboken.
Fireworks begin at approximately 9:20 p.m.
Get the latest from NBC 4 New York anytime, anywhere. Follow us on Twitter, Facebook and Google+. Get our apps here and sign up for email newsletters here. Get breaking news delivered right to your phone -- just text NYBREAKING to 639710. For more info, text HELP. To end, text STOP. Message and data rates may apply.