Police are looking for two women who allegedly scratched up a 79-year-old man's face during a $13,000 watch robbery at a Park Avenue hotel in May.

Authorities say the duo also stole $3,000 in cash from the man at the Lowes Regency Hotel on May 8.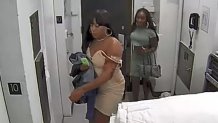 The victim wasn't hurt apart from the scratches to his face and was not hospitalized.

Authorities released surveillance video of the women, who are wanted for questioning.

Anyone with information is asked to call Crime Stoppers at 1-800-577-TIPS.
Top Tri-State News Photos