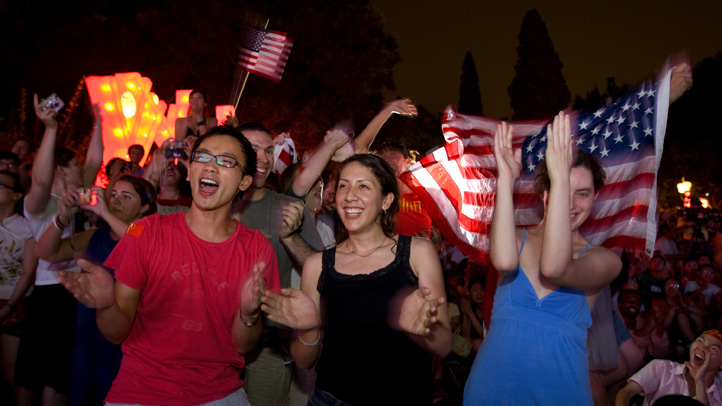 For anyone looking to get out and enjoy the Olympics amongst fellow fans of the games, and possibly with a drink in hand, below is a list of venues and parties that will satisfy your Olympics watching needs.

Roosevelt Island is hosting a free outdoor public viewing of the Opening Ceremony on a giant stage screen starting at 8:30 p.m. at Riverwalk Commons lawn, 455 Main Street. Take the F train to Roosevelt Island or the Roosevelt Island Tram from 59th St & 2nd Avenue. Visitors are welcome to bring blankets, lawn chairs and food.

The Eventi Hotel at 851 6th Ave., between 29th and 30th streets in Manhattan, will present ongoing events each day during the Olympics, including Opening and Closing Ceremony viewings on a big screen in the hotels outdoor plaza. Among the events and games that will be open to the public are Beer Olympics (beer slides, keg stands, quarters, beer pong, arm wrestling), Astroturf Wars (tug of War, croquet, horseshoes), neighborhood-wide scavenger hunts, and movie screenings of Olympics themed films (Chariots of Fire, Cool Runnings).

Blondies, the Upper West Side sports bar and restaurant is claiming to be the only location in the U.S. open to the public that will show the Olympics in 3-D with a Stream TV Networks 42-inch Ultra-D prototype. Blondie's is located at 212 West 79th Street and will be showing Olympics events in 3-D for the duration of the games.

Brother Jimmy's will offer big-screen TVs and a $25 deal of unlimited draft beer, Cuervo margaritas, screwdrivers and one appetizer for table patrons at their various locations across the city from the Olympics Opening ceremony to the Closing Ceremony.

The Churchill, an English tavern in Kips Bay, will present the opening ceremony on its eight HDTVs. The bar will serve special cocktails concocted for the occasion during happy hour on Friday from 4 to 7 p.m. The Churchill is located at 45 East 28th St.

Bounce Sporting Club, 55 W. 21st St., near Sixth Avenue in Manhattan, will be showing the games on their 30 flat-screens, with daily specials, such as half-off Absolut and Stoli mixed drinks, domestic drafts, house wine, sangria, mahimahi tacos and buffalo chicken wings.

Smithfieldin Chelsea will open at 10:30 a.m. for Olympics fans throughout the games, and even earlier for some events, so that patrons may take advantage of their 21 HDTVs. Smithfield's bar will offer classics like Pimm's Cups for the games, as well as premium draught beers, and an extensive collection of whiskey. Smithfield is located on 215 West 28th Street.
Get the latest from NBC 4 New York anytime, anywhere. Follow us on Twitter, Facebook and Google+. Get our apps here and sign up for email newsletters here. Get breaking news delivered right to your phone -- just text NYBREAKING to 639710. For more info, text HELP. To end, text STOP. Message and data rates may apply.