What to Know
More than 450 cats from NYC shelters have to be put in quarantine due to the outbreak of a rare strain of avian flu
The bird flu strain in question, H7N2, has only infected three humans in history, including a shelter veterinarian
The cats will have to stay in the ASPCA quarantine for as long as 90 days
Hundreds of New York City shelter cats have been moved to a temporary quarantine in Queens after being exposed to a rare form of bird flu.
More than 450 cats will have to stay in the quarantine for as long as 90 days until experts from the University of Wisconsin can confirm they are not contagious anymore, Animal Care Centers of New York City said Thursday.
The ASPCA set up and is operating the quarantine with the help of agencies from at least eight other states.
[NATL] Adorable Zoo Babies: White Lion Cubs Nala and Simba Born in France
The particular strain the cats are infected with, known as H7N2, first popped up in a number of felines last month and spread quickly.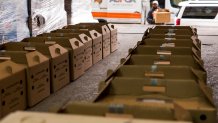 "While some of the cats are showing mild flu-like symptoms such as sneezing or runny nose, others are doing well and settling in at the temporary shelter," ACC said in a statement.
ACC said anyone who adopted a cat from its shelters between Nov. 12 and Dec. 15 should monitor the cats for similar symptoms.
It also cautioned that humans in contact with sick cats should take appropriate precautions. A veterinarian at an ACC shelter contracted the virus from a cat in December.
There are no other human cases or cases of human-to-human transmission since then, the ACC said. According to the Centers for Disease Control, only three humans are known to have ever been infected with this strain, and all suffered only mild illness.
[NATL-NY] New Yorkers' Dogged Determination to Get Pets on Trains