More than a decade after the disappearance of New Jersey escort Shannan Gilbert triggered a police investigation that exposed a much larger mystery, authorities in Suffolk County are sharing previously unreleased evidence in the Gilgo Beach case.
Suffolk County Police Commissioner Rodney Harrison released the last known surveillance video of Megan Waterman, one of the Craigslist escorts found on Ocean Parkway in the Gilbert search.
Waterman was last seen at a Holiday Inn Express in Happauge in June 2010. The footage shows multiple angles from the lobby on June 4, 5 and 6 of that year. She was wearing a yellow sweater and is shown both arriving and leaving the hotel.
Harrison said investigators believe Waterman left the Holiday Inn the night of June 6, 2010, to meet her killer. And he asked the public, once again, for help.
"While much great police work has been carried out in this case, the public's help in identifying potential suspects or additional leads is critical," Harrison said. "We hope that anyone who may have been in the area that night will reach out to our Crime Stoppers hotline, 1-800-220-TIPS."
He also doubled the Crime Stoppers reward for information leading to an arrest and conviction in the long-unsolved case to $50,000, and shared an image of jewelry discovered on the remains of a toddler whose bones were also recovered during the investigation (see below). In total, 10 sets of human remains were discovered.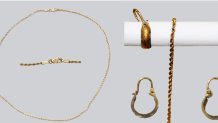 Four of them were similar to Waterman. Those victims were discovered in burlap sacks on a desolate stretch of Ocean Parkway in 2010 amid the search for Gilbert. All had previously advertised sex services on Craigslist. Gilbert had done the same.
It was the 24-year-old's disappearance that led to the discovery of all the other bodies. Notably absent from Tuesday's evidence release were the 911 calls connected to Gilbert's case. Suffolk County had been ordered to release them years ago and refused, citing the ongoing investigation.
The delay involved a previous administration, though, and Harrison had said earlier this year he would release the tapes if they didn't interfere with the ongoing investigation. The commissioner reiterated the latter point Tuesday without specifically talking about the tapes. It's not clear if the 911 call release will happen.
Harrison, the fifth Suffolk police commissioner to oversee the case, said Tuesday his office plans to review every piece of evidence in the case and said real progress was being made, though didn't elaborate on the latter point.
He pledged the release of additional data to come -- and more transparency.
Suffolk officials have long said they don't believe Gilbert's case is connected to the others, the families of other victims hope the 911 calls could shed at least some light on their own outstanding mysteries.
Four other bodies were found in the days after the search for Gilbert launched in 2010. The number had climbed to 10 sets of human remains by spring 2011. Gilbert's remains were found a year later, in December 2011, in a swampy Oak Beach marsh.
Investigators haven't been able to determine whether a lone serial killer or several suspects were involved, but they have said over the years they don't believe one person is responsible for all the deaths. No arrests have been made.
John Ray, an attorney representing Gilbert's estate, told Newsday in January he listened to the calls in 2020 but wasn't allowed to release them publicly.
He said it is important for the public to hear Gilbert's 23-minute call and other calls from neighbors.
Search for Missing Woman Leads to Hunt for a Possible Serial Killer
Gilbert's body was found in a swampy marsh about a year and a half after she disappeared. She had called 911 from Oak Beach and said someone was trying to kill her; that call lasted about 22 minutes. There were three other calls. Despite efforts from the attorney of her now-deceased mother Mari Gilbert to have the calls released -- and a court order to do so -- they have never been made public.
The search for the missing 24-year-old sex worker led law enforcement to the grisly discoveries of 10 separate sets of remains, most of whom were also believed to be sex workers.
On Dec. 11, 2010, an officer found the body of Melissa Barthelemy, a call girl who had vanished in 2007. Two days later, officers discovered the remains of three other missing prostitutes -- Megan Waterman, Amber Lynn Costello and Maureen Brainard-Barnes, all of whom advertised their sex services on Craigslist.
Those four bodies had been dumped within a quarter-mile span, about 500 feet apart. All of the victims were in their 20s -- Brainard-Barnes from Connecticut, Waterman of Maine, Costello of North Babylon.
The following April, authorities found a partially dismembered woman, later identified as another prostitute, Jessica Taylor (no relation to the alias used by Valerie Mack), an unidentified Asian man, two unidentified women and an unidentified female toddler. The toddler was determined, through DNA testing, to be the daughter of the woman discovered about 7 miles away (see map above). They have not been identified.
Authorities said they were the victims of homicides -- and of a possible serial killer. No suspects have ever been publicly named in any of the cases.
On Dec. 13, 2011, investigators eventually discovered Gilbert's body about a half-mile from where she was last seen. She was found in a swamp rampant with thorny brush and police said they believed Gilbert drowned by accident.
Later, an independent autopsy by the renowned forensic pathologist Michael Baden found Gilbert had suffered injuries "consistent with homicidal strangulation." Police have said consistently they do not believe her death is linked to the others.
Gilbert's mother, Mari, refused to let the case drop out of the public eye and pressed law enforcement for a homicide investigation that never matured. Mari Gilbert died in July 2016, allegedly stabbed to death by her other daughter, Sarra, who suffers from schizophrenia.
Copyright NBC New York/Associated Press