A man in the Bronx grabbed an elderly man by the neck and took him to the ground in broad daylight, police say.
The NYPD released surveillance footage of the man who police say followed his victim out of a Chase Bank on Westchester Avenue in Foxhurst on Friday around 10:30 a.m. and followed him to Fox Street.
There, the NYPD says the suspect grabbed the 77-year-old victim by the neck and tackled him to the ground before the pair briefly fought with each other. After the short tussle, the suspect ran away from the victim, authorities said.
The victim was scrapped up and suffered a bruise above his eye but refused medical attention, police said.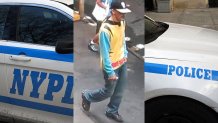 The suspect is seen on security footage wearing a hat and a yellow, long-sleeve shirt.
It wasn't clear why the victim was attacked, but police are asking anyone with information to contact the NYPD's Crime Stoppers Hotline at 1-800-577-TIPS.
Top Tri-State News Photos