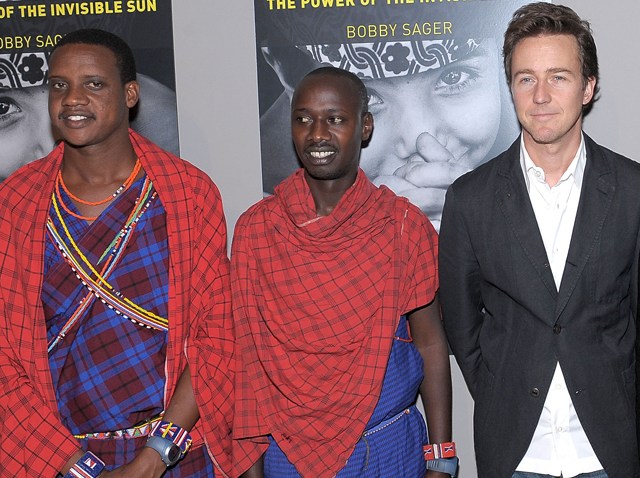 The New York City Marathon attracts people from all over the world, bringing natives, celebrities and tourists together, so don't be shocked if you see actor Edward Norton running alongside three Maasai warriors along the 26.2 mile stretch Sunday.
Norton, 40, is raising awareness and funds for Maasai Wilderness Conservation Trust, which works to preserve thriving ecosystems in East Africa and also allows the Maasai to stay in the area and generate income from tourism without hurting the land.
The actor got involved after discovering the trust on a trip to Kenya to climb Mount Kilimanjaro.
"It literally is lions and elephants and giraffes and rhinoceros and things like that there," Norton said, according to the Daily News. "So if there's any ecosystem that's under threat on the planet that everybody has a sense of connection to, it's that one."
Norton invited the three Maasai warriors he met to race with him during the New York City Marathon, which will be broadcast on Channel 4 this Sunday at nine.
The warriors ran with the actor in Central Park recently; they wore their traditional vibrant clothing, bracelets and necklace, so don't expect them to switch over to shorts or sweats on the big day.
"They're very comfortable in those," Norton said, the Daily News reported. "That's what they walk and run in at home. That's just sort of their normal day-to-day wear, and they're really comfortable in it.
"The only thing they're still debating a little bit is whether to switch from their sandals to running shoes," he added. "They like their sandals and that's what they run in at home, but they had never run on pavement before, and so they're debating maybe wearing Pumas."
Norton has no plans to run in sandals because it would destroy him, he said.
During his training, he has already pulled his Achilles tendon while training and hurt his shins. "But I think I've come into the good zone," he said. " I'm trying to rest this week, mostly."
His down time will be limited because his three warrior guests are staying with him in his Manhattan home.
The warriors are stoic but find some features of the big city fascinating. They found the Chrysler Building's Art Deco steel eagle heads impressive, but New York's canine fascination to be rather curious.
"They think the amount of attention we pay to our dogs is really strange - the dogs on leashes and cleaning up after them," Norton said. "Amidst all the tall buildings and everything, I constantly am seeing them double-take at a different type of dog. And when the person's picking up after it, they just start laughing."
They're in for more astonishing views on Sunday.
"I'm excited for the Verrazano Bridge right at the start," Norton says. "That should be really dramatic. I'm hoping I can be on the upper deck, because seeing over the city and all the way to where you've got to end up is kind of cool. I'm definitely most intimidated by the Queensboro Bridge. Everyone says that's just the soul-killer."
Norton isn't the only celebrity in the race running for the Maasai trust. Alanis Morisette and David Blaine will also run, but Blaine might not participate because of a heel injury during training.
Former "ER" start Anthony Edwards, "Mercy" star James LeGros and Tony-winning actress Sarah Jones will run for Shoe4Africa, a charity that raises funds for a children's hospital in the northwest, reports the News.
Christopher Reeve's son Matthew will help raise fund for spinal-cord-injury research by running for the Christopher and Dana Reeve Foundation.