One of the best beaches in New York also ranks as one of the best in the entire nation, according to a closely watched annual list released Thursday.
Stephen Leatherman, better known as "Dr. Beach," ranked Hapuna Beach State Park in Hawaii number one in this year's list of the nation's best -- and Coopers Beach in Southampton a close second.
Coopers features "some of the best beach access in the Hamptons," Leatherman wrote. The beach often appears in his annual list, and in 2010 was ranked best in the nation.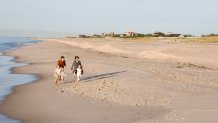 Leatherman, a professor at Florida International University, has been producing the rankings for 30 years.
The full top-10 list:
Hapuna Beach State Park
Hawaii Island, Hawaii
Coopers Beach
Southampton, New York
Ocracoke Lifeguarded Beach
Outer Banks of North Carolina
St. George Island State Park
Florida Panhandle
Lighthouse Beach, Buxton
Outer Banks of North Carolina
Duke Kahanamoku Beach
Oahu, Hawaii
Caladesi Island State Park
Dunedin/Clearwater, Florida
Coronado Beach
San Diego, California
Beachwalker Park
Kiawah Island, South Carolina
Coast Guard Beach
Cape Cod, Massachusetts
Copyright NBC New York