What to Know
Gov. Andrew Cuomo says New York gyms can reopen as early as Aug. 24 for the first time in more than five months; health requirements apply. In NYC, a spokesman cast doubt on gyms' ability to reopen next week
The governor had hedged on reopening gyms as recently as 11 days ago, citing glaring evidence of heightened risk from other states; a number, including Arizona, have had to re-close gyms after reopening them
Fitness centers have yet to reopen in New Jersey, though Gov. Phil Murphy said Friday he was trying to figure out a way to safely reopen those along with indoor dining, which he postponed indefinitely in late June
Gov. Andrew Cuomo said Monday that gyms can reopen in New York as early as next week -- a boon for fitness aficionados who have had their workout routines disrupted for the last five months. Those in the city, though, may have to wait.
Capacity will be capped at 33 percent to start, though if that proves problematic, the state says it will dial that number back. Health requirements include mandatory masks at all times, proper air ventilation, sign-in forms, screening at the door (like temperature checks) and social distancing. It will be up to individual localities to determine whether gyms can hold indoor classes, Cuomo said.
The governor said gyms are being allowed to reopen because of how well the state has done in keeping infection rates low, with daily positive test rates regularly below one percent.
"While it's encouraging that we've reached the point where it's acceptable for them to begin reopening in our communities, this is not the time to forget that the pandemic is ongoing," Governor Cuomo said. "New Yorkers must closely adhere to the guidelines and local health departments are required to strictly enforce them to help ensure gyms and fitness centers reopen safely and protect the public health."
Local health departments also must inspect each gym before or within two weeks of reopening; they can reopen as early as Monday, Aug. 24 but must be inspected by Sept. 2. Cuomo extended that timeline to give municipalities more time for local health department inspections. The start of indoor classes may also be delayed until after Sept. 2 as well.
A New York City official told NBC News that it is unlikely that gyms in the city will be able to re-open on Aug. 24. The governor said that it will be up to New York City Mayor Bill de Blasio whether to open gyms and fitness centers in the city; elsewhere, county chief executives will determine when reopening is most appropriate.
The mayor didn't address gyms at his daily briefing, which preceded Cuomo's. However, he did say that "if we open anything up, we've put all the right restrictions on it and limits on it, and if we can't do that, then it's probably not something to open right now."
Inspecting the thousands of gyms in the five boroughs in a week may be a tall order, though. Later, a spokesman cast doubt on NYC gyms reopening next week.
"There's no higher priority than making sure our schools and child care centers are safe for learning in the fall, and the city's dedicated team of inspectors will continue prioritizing that work," de Blasio spokesman Mitch Schwartz told NBC News. "While indoor fitness classes and indoor pools will not be opening at this time, we'll be developing a fair and rigorous inspection system for other gym setups in the coming weeks."
At high-end gym Performix House near Union Square, the management was getting prepared to reopen with temperature checks and pulse oximeters. But the gym may have to wait to use those tools, as City Hall said that they do not have enough inspectors ready to give gyms the go-ahead to reopen this month.
Other requirements for New York gyms include:
Customers must sign in with contact information and health screening
Six feet of social distancing and face coverings maintained at all times
Cleaning and sanitizing supplies provided to customers, and shared equipment cleaned between each use.
Classes held by appointment only, and areas where classes are held must be cleaned between sessions
No shared water fountains allowed, but water bottle refill stations will be permitted
Communal showers are to remain closed, but individual showers/stalls can stay in use if they are cleaned in between use
Cuomo says the regulations are "rigorous" — and with good reason.
"The gyms are going to say these are difficult guidelines. And they are. Gyms are one of the areas where you have to be very careful -- and we know that," he said. "If it's not done right, it can be a problem. It is an area of concern -- that's why we went slow on it and that's why we focused on it."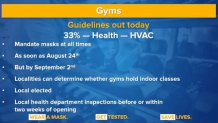 While all of New York is in the fourth and final phase of Cuomo's reopening plan, gyms are one of the few core businesses that have remained closed statewide. Movie theaters also are still shut down across the state. Asked about those Monday, Cuomo described gyms as "more essential" to daily life than cinemas.
Monday's announcement marks a sharp turnaround from Cuomo's comments as recently as 11 days ago, when the governor had no timeline for gyms' reopenings, citing glaring evidence of heightened risk from other states.
"Are gyms any tougher than bowling alleys or restaurants?" Cuomo said. "I don't really think so."
Asked about the differences between indoor gyms and indoor restaurants, Secretary to the Governor Melissa DeRosa said gyms must require patrons to wear masks all the time — unlike in indoor dining. 
"We think all those things in combination along with the 33 percent is something we're comfortable with," DeRosa said. "If for any reason that becomes a problem, it will be something we roll back."
CrossFit, Inc. was hopeful New York City would be allowing gyms to open. In a statement, the company said they wanted the city to help keep both New York City residents and its small businesses healthy by allowing all gyms to open under appropriate safety guidelines.
Daily Percentage of Positive Tests by New York Region
Gov. Andrew Cuomo breaks the state into 10 regions for testing purposes and tracks positivity rates to identify potential hotspots. Here's the latest tracking data by region and for the five boroughs. For the latest county-level results statewide, click here
Source: ny.gov
"We know gyms are highly problematic from the other states. They opened them and they had to close them," Cuomo said, referring to states like Arizona. "We're here, poised delicately on this island of New York state with this sea of spread all around us so we know we have this storm and we have to be very very careful."
New York state has seen 10 straight days with daily COVID test rates below 1 percent. Cuomo says maintaining that low infection rate and protecting progress remains his key focus going forward.
That too is the focus for New Jersey Gov. Phil Murphy, who has yet to allow gyms to reopen in his state. He has permitted individual sessions by appointment to resume. Late last week, Murphy said he was "trying" to find a way to safely reopen health clubs, along with indoor dining, which he shelved indefinitely shortly before it was supposed to resume in late June. He offered no updated timeline for either.
"I can't tell you when or how," Murphy said in his Friday briefing. "My guess is we're going to need to continue to see good numbers, and there will be significant parameters, especially around capacity matters. But bear with us on that."
Meanwhile, the incremental reopening continues in both New Jersey and New York. Starting Monday, bowling alleys returned in New York for the first time since March. Those reopenings are subject to strict social distancing rules; bowlers will have a lane separating each party and all food and drinks must be delivered directly to lanes. Along with temperature checks at the door, everything (shoes, balls, etc.) will be handled and sanitized by staffs. Capacity will be capped at 50 percent to start.
Museums and aquariums in the five boroughs follow suit next week with a 25 percent capacity cap and a host of other COVID precautions, including distancing and masks. Cuomo said New York's stable COVID transmission rate, which has remained at or below 1 percent since the reopening, was key to his decision.
Copyright NBC New York