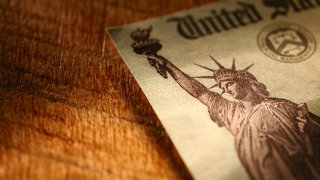 A 31-year-old Brooklyn man is accused of stealing at least nine stimulus checks, along with credit cards and other checks, out of the mailboxes of homes and apartment buildings in the Sunset Park section of Brooklyn.
According to the criminal complaint and statements made in court Wednesday, police officers saw Chen look inside a medical collection bin at a closed medical office early in the morning on April 28. He then walked to a nearby residential building to examine the mail there, before walking into the gated area of another apartment building.
Chen appeared to be carrying mail when he left, which he tossed on the sidewalk when he saw the police, the criminal complaint read. The officers saw a large bulge in Chen's pocket and searched him, allegedly finding stimulus checks worth more than $12,000, along with stolen credit cards, bank checks, opened envelopes and letters with various names and mail addresses — believed to have been taken from other mailboxes.
One check allegedly stolen from a mailbox in the lobby of 868 45th Street was for $2,400. Police began tailing Chen after an alert resident flagged them to his alleged activity; NYPD officers and postal inspectors arrested him on Tuesday.
The NYPD initially charged Chen with possession of stolen property but investigators decided to increase the charges given the number of federal checks he allegedly stole. Federal prosecutors said they are charging Feng Chen with federal mail theft because of the postal-related nature of the scheme, as well as the fact that the Treasury checks were meant for workers in need amid the coronavirus crisis.
U.S. Attorney Richard Donoghue detailed the charges, which carry up to five years in prison, in a release Wednesday. "For many families, these stimulus checks are a lifeline in these difficult times and anyone who tries to cut that lifeline will face the full weight of the law," Donoghue said.
Chen's federal public defender, Jan Rostal, declined to comment about the charges filed.
Investigators said they believe Chen was actively stealing checks for more than a week before his arrest. Officials are now reaching out to the families believed victimized to explain to them why they never received their stimulus checks.
Copyright NBC New York