The last thing Samy Shelbaya expected after a night out in Midtown was to be wrapping his friend's bullet wound in the back of a cab.
The 22-year-old was one of two men in the back of a livery cab a few blocks north of Penn Station when a bullet whizzed into their ride home. Police said each was hit in the arm.
"My teammate screams 'Ah, I'm hit!'" Shelbaya recalled the next day, out of the hospital with fresh bruises and stitches covering his injuries.
The pair heard the gunfire before realizing they'd become the city's latest victims of gun violence.
"I take Nick's shirt, wrap it around his arm tight and apply pressure to the wound," Shelbaya said. "Then I look down and I'm covered in blood, and I'm like 'where is this blood coming from.'"
That's when he realized his friend wasn't the only one struck by bullets. Both men were taken to Bellevue Hospital.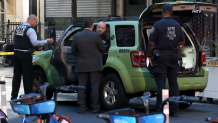 Shelbaya, who begins medical school next week, said the injury will put an end to his upcoming rugby season.
"My brain hasn't processed what went down. The last thing I would have thought that on the way home after a night out, was to get shot," he said.
Police said the shooter fled on foot down 8th Avenue. No arrests have been announced.
Copyright NBC New York