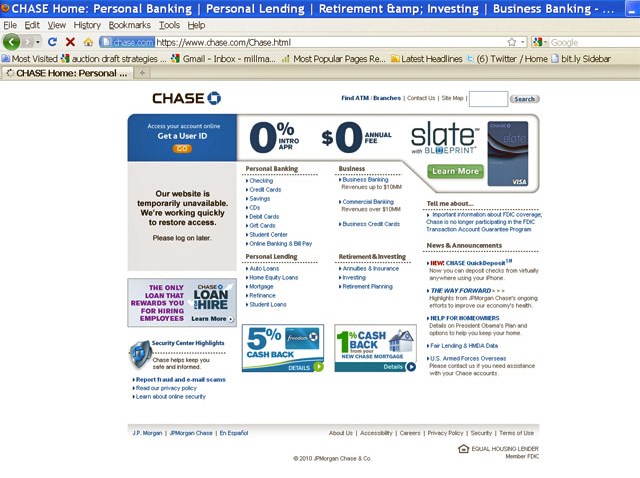 Chase bank's online banking service was down for much of the day on Tuesday due to what the company identifed as a technical issue that it was working to resolve.

Bank officials declined to elaborate on the nature of the problem, and weren't sure when service would be restored. They said it was a "high priority" and they're working on it.

The service went down Monday night, potentially affecting its 16.5 million customers who bank online. Chase spokesman Thomas Kelly couldn't specify the exact time service was disrupted and it wasn't immediately clear how the bank found out there was an issue.

The bank will work with any customers who had online bill payment deadlines they couldn't meet because of the outage, Kelly said.
He also urged Chase customers to use the telephone banking service, which was operating normally, as were its 15,500 ATMs.

Online bankers who logged on to its website Tuesday, www.chase.com, were met with a note that said: "Our website is temporarily unavailable. We're working quickly to restore access. Please log on later."

Chase bank is part of JPMorgan Chase & Co.
Copyright AP - Associated Press