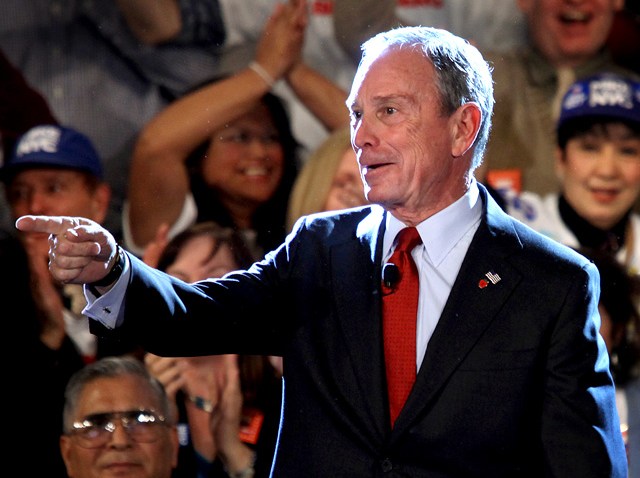 A lotta bucks? For sure. Bang? Not so much.
Mike Bloomberg won a third term as mayor in a race that was much tighter than expected.
The billionaire mayor, who has spent nearly $100 million on reelection for a third term, will return for another four-year term. The richest man in New York set a new record for a self-financed campaign, but he didn't get much bang for his buck.
"The voters have spoken and now it's up to us to deliver," Bloomberg said after being introduced by Jimmy Fallon. "I know we can and I know we will....The public wants their leaders from both parties to get things. They want more leaders and less partisanship. That's what we have done in New York City."
The mayor called it a "hard-fought victory in a very difficult year," and promised that New Yorkers "ain't seen nothing yet" from him.
"I'm committed to working twice as hard in the next four years as I did in the past eight," Bloomberg said.
The campaign of Comptroller William Thompson never really found its footing despite a few bright spots along the way. Bloomberg's campaign was polished and relentless, barraging the airwaves with slickly produced spots touting his eight years in office and slamming Thompson at every chance.
"Although we've had our differences, we have always found common ground in our deep desire to serve this city and to build a better future for this city," Thompson said in a concession speech.

Check here for the latest elections results for New York and New Jersey.
In the wake of the financial meltdown last fall, Bloomberg lobbied the City Council to amend a term limits law that would allow him to seek a third term. The former Republican mayor, who does not belong to any party but still ran on the GOP and Independent Party lines, had long insisted he supported term limits before changing course last year.

New Yorkers who voted against Bloomberg on Tuesday overwhelmingly mentioned his changed position on term limits and exorbitant spending. He spent $85 million to win re-election in 2005.

"I didn't like the idea that King Mike thinks he can buy anything he wants, including my vote," said Democrat Kevin Anterline, a 56-year-old university employee who voted for Thompson.

Marjorie Shea, a retired high school teacher, said the spending was "overkill" but she voted for him anyway, saying his wealth and businessman's mind makes him an independent thinker.

"The team he has in place is doing very well. And he's not beholden to anyone," said Shea, a Democrat voting on Manhattan's Upper West side.
Bloomberg becomes the first three-term mayor in the city since Democrat Ed Koch, who has endorsed Bloomberg. But the squeaker of a victory seemed underwhelming considering he outspent Thompson by at least $80 million. His staffers said the economy made it tough to merely pull off a victory.
"Well, you know, whether the Yankees win in 4 games or 5 games, 6 games or 7, they're still going to be the World Champions," said Howard Wolfson, the campaign's chief spokesman. "On January 1, Michael Bloomberg is going to be the mayor of New York. And again, look, I think just winning in this kind of environment, where you have incumbents all over the country going down -- people who spent an awful lot of money -- is a real victory."
Copyright AP - Associated Press