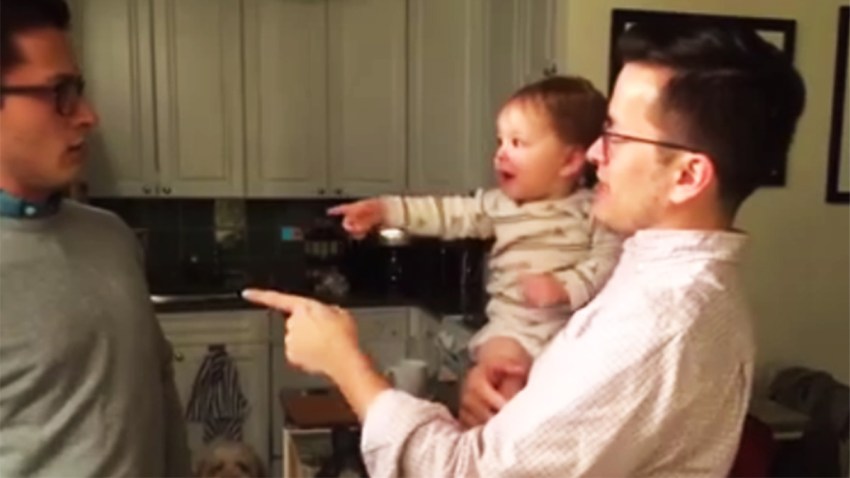 Surely this experiment has played out in households of twin parents everywhere: how does your baby react when he's plopped into your twin's arms?
In the case of one New York dad who got the adorable reaction captured on camera, baby gets boggled.
Stephen Ratpojanakul and his wife Carroll left their 16-month-old son Reed in the care of Stephen's twin brother Michael and his wife one day last week, according to BuzzFeed.
When they returned to pick him up, Reed got confused, video posted on Stephen's Facebook page shows.
"Reed isn't used to me wearing glasses, and in his confusion he kept reaching back and forth between me and Michael," Stephen told BuzzFeed.
The family filmed Reed's adorably puzzled reaction. The child, cradled in his uncle's arms, says "Dada"! and reaches for his bespectacled father, seen in the video wearing the gray sweater.
But when he sees Michael without glasses, he reaches back for his uncle, again pointing and saying "Dada!"
So he's passed back to Michael, and the confusion starts again.
The video on Facebook has racked up over 10 million views from all over the world.
"It's a silly video, but it's great knowing that it provided a quick laugh to people from all different backgrounds," Stephen told BuzzFeed.
"I promise Reed was having fun -- he's the happiest baby I've ever seen," he said.
Stephen and Michael think they're identical, though they've never had DNA tests to confirm it, BuzzFeed reports. Stephen's wife Carroll is also a twin, making Reed a son of a twin mom and a twin dad.
Ratpojanakul did not immediately respond to messages left by NBC 4.